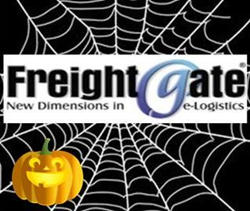 Fountain Valley, California (PRWEB) October 31, 2014
Deep within the boiling cauldron of every supply chain are spooky horror stories. Often overworked logistics professionals are faced with supply chain challenges chock-full with creepy crawlers and The Walking Dead. A never-ending grind of picking up the pieces when logistics have gone wrong echoed with Where is my shipment? and Keep the costs down! Haunted supply chains are really scary in this crazy and volatile world. The reality is most companies are using supply chain processes that aren't as efficient, effective, or robust as they could be.
Knocking at the door this Halloween are the magical powers and special potions of Freightgate, a global leader of Logistics Cloud Solutions. The mysterious energy of Logistics Cloud Platform will capture and reward all who dare enter it. The Freightgate Universe is exciting, mix and match treats of logistics solutions and easy-to-deploy modules to bring home your very own delicious creation to cure supply chain nightmares.
This Halloween Freightgate is inviting shippers to replace haunted, outdated Transportation Management Systems with the bright new future of a Logistics Cloud solution on the Freightgate Universe. Come join us in the Freightgate Universe. Receive a complimentary analysis of your supply chain logistics management, please complete form at: http://www.freightgate.com/demo or Call Freightgate Sales at (714) 799-2833.
Eliminate the cobwebs and evil witches haunting and creating supply chain inefficiencies . Freightgate will transform your scary logistics nightmares into a most memorable experience optimizing your logistics management, carrier selection and automation of shipment tenders, along with cosmic connectivity, collaboration and crystal clear visibility. Since the early 1990's, Freightgate has been a Best-in-Class leader in cloud computing and mobile applications for logistics and global supply chain management.
Freightgate's Logistics Cloud Platform, known as the Freightgate Universe, enables solutions empowering professionals on all levels to collaborate with global vendors and logistics providers seamlessly on a single common transportation sourcing platform for informed decision-making across the entire network. It encompasses ISO9001:2008-certified end-to-end transportation management processes from procurement, rate management, optimization, execution and visibility, carbon footprint, through invoice audit & pay. The Freightgate Universe is comprised of adaptive easy-to-deploy modules to help companies leapfrog into the 21st century with minimal start-up cost. Freightgate is the only commercial EFM compliant platform enabling standardized web-services as promoted by the US-DOT and Transport-Canada.
About Freightgate
Based in Fountain Valley, California, the Freightgate team has been developing Internet solutions for the freight and logistics since 1994, such as its industry-leading Logistics Cloud Platform, offering Supply Chain Collaboration & Visibility; TMS, Global Tender Bid Management; Least Cost Routing, Service Contract and Quote Management; Regulatory Compliance CBP and FMC; Automated eInvoice Audit and Payment; innovative What-If-Scenario Analysis tool; interactive online Sailing Schedule; BFN (Built for NetSuite) approved SuiteApps. Freightgate is ISO 9001:2008 certified. Visit Freightgate at: http://www.freightgate.com.