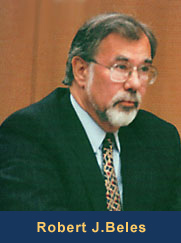 We pride ourselves as experienced and Certified Criminal Law Specialists on making sure our clients receive the best legal representation available when it comes to all complex matters
Fremont, CA (PRWEB) May 31, 2015
Fremont criminal attorneys at Beles & Beles are Certified Criminal Law Specialists and they have been defending clients for over four decades. The National Academy of Criminal Defense Attorneys has named Robert J. Beles of Beles & Beles one of the Top 10 criminal defense attorneys in Northern California. They are very proud of this accomplishment, and as a result of the recognition, they have decided to offer no cost case evaluations to people charged with serious crimes in Fremont and throughout the East Bay.
According to NACDA, the very few attorneys (less than 1 percent) who are good enough to make its Top 10 list have demonstrated an extraordinary amount of knowledge, skill, experience, expertise, and success in their practice of criminal defense. Even fewer are Certified Criminal Law Specialists like Bob and Anne Beles.
Garnering recognition as a Top 10 attorney by the academy is a tough process.
The Fremont criminal attorneys that make the NACDA list must first be nominated by a licensed practicing attorney. Then, NACDA's research staff verifies that the attorney meets the minimum requirements of membership, which includes practicing for at least five years in criminal defense. Then, the attorney must be one of 50 attorneys chosen to advance to the final selection stage by the NACDA processing committee. Finally, the attorney must be selected by the NACDA Board of Governors as a "Top 10" attorney.
Fremont criminal lawyers at Beles & Beles handle all types of serious cases and they provide an aggressive defense because they are in objection to the suppressive and over reaching powers of the government. According to Attorney Robert J. Beles: "We pride ourselves as experienced and Certified Criminal Law Specialists on making sure our clients receive the best legal representation available when it comes to all complex matters including charges relating to sexual misconduct, child pornography and other sex crimes that would ordinarily require a person to register as a registered sex offender."
ABOUT THE LAW OFFICES OF BELES & BELES
The Fremont criminal defense attorneys at Beles & Beles have more than 100 years of legal experience among them and they are one of the largest criminal defense firms in Northern California. They proudly defend the rights to liberty and freedom of their criminal defense clients in Fremont, Hayward, Oakland, Concord, and Pleasanton and throughout the East Bay. Specific areas of focus for their firm include sex crimes, federal cases, appeals, serious felonies, murder, attempted murder, fraud, tax evasion, domestic violence and DUI defense as well as any other criminal charge.
Fremont domestic violence lawyers should be chosen carefully according to Attorney Robert J. Beles, "If you have been arrested for or charged with domestic violence it is important to contact an experienced defense attorney in Fremont as soon as possible to avoid mandatory restraining orders and other legal problems that can be exacerbated by delaying. We offer a no cost consultation to people charged with domestic violence or assault in Fremont and the entire East Bay. We have 5 locations."
Beles & Beles also provides its clients with experienced Fremont sex crime attorneys and DUI lawyers. "If you have been charged with a DUI it is important to hire an experienced attorney very quickly. This is the only way to potentially avoid a mandatory driver's license suspension. Our Certified Criminal Law Specialists have been defending our clients from DUI related charges for a long time and we understand how the system works," says Anne Beles. People who need to speak with an experienced Fremont criminal defense lawyer are encouraged to call (510) 889-7800 now to speak with an attorney.
Beles & Beles
39159 Paseo Padre Pkwy
Fremont, CA 94538
(510) 889-7800
beleslaw.com