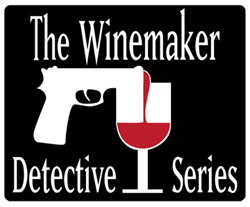 An excellent mystery series in which you eat, drink and discuss wine as much as you do murders.
New York, NY (PRWEB) February 26, 2014
In a new wine-plus-crime whodunit in the works at Le French Book, lush French wine country and exquisite grand cru bottles combine with ritualistic murders and a brilliant wine expert to solve the case. The fourth Winemaker Detective mystery now being translated promises to be a thriller with a very classy bouquet and more gourmet gumshoeing around France.
Mystery and thriller publisher Le French Book is upping the translation pace on this series, signing a deal to translate Deadly Tasting—the fourth in the Winemaker Detective series. In this mystery, a serial killer stalks Bordeaux, signing his crimes with a strange ritual: twelve glasses in a semi-circle, one more filled with each victim. To understand the wine-related symbolism, the local police call on the famous wine critic Benjamin Cooker. The investigation leads him and his assistant to the dark hours of France's history, as the plot thickens among the once-peaceful vineyards of Pomerol.
"In this mystery, the stakes are higher for the winemaker hero Benjamin Cooker and his assistant Virgile Lanssien," Anne Trager, founder of Le French Book says. "As with the other books in the series, the wine and the wine region are characters as much as the two sleuths. This one adds another dimension, exploring scars from France's history."
Twenty-two books have been published in France in the Winemaker Detective series, which is also a hit television series in its fourth season. Deadly Tasting is the story that launched the series on TV under the title Les Larmes de Pasquin.
Le French Book has already translated the first three titles in the series: Treachery in Bordeaux, Grand Cru Heist and Nightmare in Burgundy. Two are already available as e-books, and all three will come out in print this summer. Deadly Tasting is scheduled for release in fall.
The Authors
Jean-Pierre Alaux is a magazine, radio and television journalist when he is not writing novels in southwestern France. He is a genuine wine and food lover and the grandson of a winemaker. For him, there is no greater common denominator than wine. Coauthor of the Winemaker Detective series, Noël Balen lives in Paris, where he shares his time between writing, making records, and lecturing on music. He plays bass, is a music critic and has authored a number of books about musicians in addition to his novel and short-story writing. Deadly Tasting is being by translated by long-time translator Sally Pane from Boulder, Colorado.
Other books in the series
The first in the series, Treachery in Bordeaux (978-1-939474-02-5) introduces the characters and revolves around a mystery in a prestigious winery. This journey to Bordeaux takes readers behind the scenes of a grand cru wine estate that has fallen victim to either negligence or sabotage. World-renowned winemaker turned gentleman detective Benjamin Cooker sets out to find out what happened and why. Who would want to target this esteemed vintner?
The second, Grand Cru Heist (9781939474049) navigates from the Loire Valley to Bordeaux. In between a glass of Vouvray and a bottle of Saint-Émilion, the Winemaker Detective and his assistant Virgile turn PI to solve two murders and very peculiar heist. Who stole those bottles of grand cru classé?
In the third, Nightmare in Burgundy (9781939474056), the Winemaker Detective leaves his native Bordeaux for a dream wine-tasting trip in Burgundy, France's other key wine region. Between Beaune, Dijon and Nuits-Saint-Georges, his stay turns into a troubling nightmare when he stumbles upon a mystery revolving around messages from another era. What do they mean? What dark secrets from the deep past are haunting the Clos de Vougeot? Does blood need to be shed to sharpen people's memory?
About Le French Book
Le French Book (http://www.lefrenchbook.com) is a New York-based publisher specialized in great reads from France, with a growing catalog of top contemporary mysteries and thrillers with a French touch. An IPS publisher.
©2014 Le French Book, Inc. All rights reserved. Information is subject to change without notice.