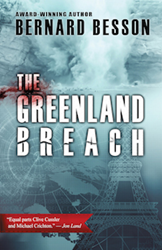 It's fiction, but it's all pulled from reality
New York, New York (PRWEB) August 18, 2014
Spy novel lovers will be happy to hear that mystery and thriller publisher Le French Book just inked a deal for the sequel to The Greenland Breach, which is in bookstores now. Whether it's climate change or the economic battle for control of rare earth elements, former top intelligence officer and award-winning thriller writer Bernard Besson knows how to set an entertaining, action-packed espionage story on the backdrop of today's geopolitical landscape.
In this new novel, his Paris-based team of independent operatives get drawn into a world of high-speed trading, international corruption, and the battle for control of rare earth elements, which are key to modern technology. Besson's takes readers from Paris to Malaysia and into the dark, violent corners of today's geopolitics.
Besson has authored nine thrillers in French, and the first novel to be published in English, The Greenland Breach, came out recently and has been doing well, according to publisher Anne Trager. It is a stylish cli-fi spy novel with environmental catastrophe, geopolitical fallout, freelance spies and Bond-like action. "We are excited to start working on this new translation," Trager says.
For Bernard Besson, a specialist in economic intelligence with a long career in French intelligence and law enforcement, spy novels are an entertaining way to tell truths about operatives who risk their lives for their country, often without any recognition. "It's fiction, but the geostrategic stakes and the way the players think and act is all pulled from reality."
And he does it well. "Besson constructs a complex plot and confidently portrays the grandiosity as it unfolds," says to Publishers Weekly. For Cosmopolitan, his first novel was both "Original and harrowing."
In The Greenland Breach, the Arctic ice caps are breaking up. Europe and the East Coast of the United States brace for a tidal wave. Meanwhile, former French intelligence officer John Spencer Larivière, his karate-trained, steamy Eurasian partner Victoire, and their computer-genius sidekick Luc pick up an ordinary freelance assignment that quickly leads them into the glacial silence of the great north, where a merciless war is being waged for control of discoveries that will change the future of humanity.
Start reading The Greenland Breach now: http://www.lefrenchbook.com/read-greenland-breach/
Praise
"Masterfully paced and wondrously prescient, it is a terrific story that charges out of the gate and speeds in relentless fashion to a wholly satisfying finish." Jon Land, author of the Caitlan Strong series
"I would recommend this book to fans of Clive Cussler, Michael Crichton and overall fans of thrillers that have a lot of action, adventure and laughs to balance of the seriousness of the story." -Turning the Pages
"For the James Bond fan, there are plenty of sophisticated gadgets, fiendishly complex puzzles and clever use of technology. And if you look beneath the glossy, high-paced surface, there is a thought-provoking plea to re-examine the way we live and act today." –Crime Fiction Lover
About Le French Book
Le French Book (http://www.lefrenchbook.com) is a New York-based publisher that brings France's best crime fiction, thrillers, novels, short stories, and non-fiction to new readers across the English-speaking world. Its motto is: "If we love it, we'll translate it."