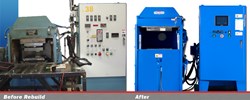 Knowing that there must be a way to improve the press' performance they turned to French and decided to rebuild the press, resulting in less than 5% downtime since the improvements.
Piqua, OH (PRWEB) February 19, 2014
French Oil Mill Machinery Company recently rebuilt a TMP 170-ton vacuum hydraulic press used for precision rubber molding. The customer, a custom molder serving a wide variety of industries, was still running the older press in their daily operation but experiencing problems with press reliability due to outdated hydraulic and electrical programming. Knowing that there must be a way to improve the press' performance, they turned to French and decided to rebuild the press. Since returning the rebuilt press to the customer's production line, they now have less than 5% downtime from the upgraded vacuum press.
As part of the hydraulic press rebuild project, French replaced the press' complete hydraulic system to utilize upgraded Bosch hydraulics. The new self-contained oil hydraulic unit with energy efficient motor reduced energy consumption in the molder's process and increased cycle time with faster press close and opening. All preexisting press plumbing and wiring were replaced, significantly reducing the press' footprint. Also included in new hydraulic system were welded manifold mounted valves, an oil filter, oil strainer and a new heat exchanger allowing the customer to accurately control pressures and speeds.
The new operator-friendly press controller features a color screen display and allows the operator to set and monitor press functions and values such as press time, bumps and platen temperature. The new electrical enclosure was designed and built to comply with all current safety codes.
French rebuilt the press' main cylinder, refurbished the heated press platens, vacuum doors and replaced all seals. Prior to shipping the rebuilt press back to the customer's plant, the press was quality inspected for other wearing parts such as heater, thermocouples and rams, was totally reassembled and then fully tested to ensure improved press performance and reliability.
French Oil Mill Machinery Company has been the industry technology and quality leader since 1900, serving customers in over 80 countries. The family-owned, ISO-certified company custom designs, manufactures and supports a wide assortment of stand-alone hydraulic presses and turnkey systems for the lamination, composite, friction and rubber industries. Press tonnages generally range from 10 to 2,000 tons, with various platen sizes. French presses are well known for their superior value, very low deflection, rugged construction, long life and industry-leading three-year warranty. French is the parent company of TMP, A Division of French. French's 225,000 square foot corporate office and manufacturing facility are located in Piqua, Ohio.