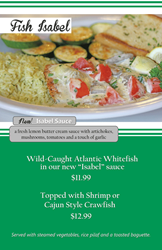 "Our new Fish Isabel entrée is the perfect fare for healthful and flavorful summer dining," said Barclay Anthony, Sea Island CEO.
San Antonio, TX (PRWEB) July 22, 2014
Sea Island Shrimp House is now presenting a new, limited time offer for summer, Fish Isabel—wild-caught Atlantic whitefish in a fresh lemon butter sauce with artichokes, mushrooms, tomatoes and a touch of garlic, served with steamed vegetables, rice pilaf and a toasted baguette all for $11.99.
In addition, Fish Isabel can be ordered with wild-caught Texas Gulf Shrimp or Cajun-style Crawfish topping for $12.99, also served with steamed vegetables, rice pilaf and a toasted baguette.
"Fish Isabel is a wonderful addition to our menu, as it features an abundance of fresh vegetables with wild-caught whitefish, making it a savory yet lighter fare option for summer," said Barclay Anthony, Sea Island Shrimp House CEO.
And through August, Sea Island will offer a 32 oz. glass of ice cold strawberry lemonade for $2.99, just in time to squelch the Texas heat.
The restaurants feature a wide variety of fresh wild-caught Texas Gulf shrimp and fish entrées, salads, appetizers, beer and wine, and offer patio dining and outdoor playscapes for children.
Fresh from the Texas Gulf coast, Sea Island is San Antonio's source for delicious, affordable seafood and family-friendly dining. Learn more at http://www.shrimphouse.com.
About the company:
Sea Island Shrimp House, a local San Antonio seafood restaurant icon, has been sourcing and serving the freshest, wild-caught Gulf seafood since opening its first location in 1965. The restaurant's family-friendly atmosphere, delicious food and affordable prices have made this a San Antonio favorite for more than 47 years.
Family-owned and operated from the beginning, the six San Antonio locations serve only premium fresh seafood that features the best shrimp, scratch cooking and a passion for flavor and value. Sea Island Shrimp House is known for food that is simple, fresh, fast and affordable. They offer numerous seafood specials, as well as kid's meals. San Antonio agrees: Sea Island has been voted "Best Seafood Restaurant" in the San Antonio Express News' Reader's Choice Poll since it began in 2000.