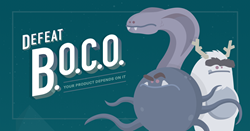 BELLEVUE, Wash. (PRWEB) September 20, 2018
On September 15, 2018, Seattle-area digital company Fresh Consulting released a new immersive website to educate companies on the importance of the user experience (UX) design process and how designers, developers, and teams can use science to unify team members and project stakeholders to defeat B.O.C.O., the "Beast of Conflicting Opinions."
Created with original illustrations by Fresh designers and strategists, the Research World is the first of four worlds released on DefeatBOCO.com. The second Defeat B.O.C.O. world, Design, will be released on October 15. The site uses the latest web technologies to take users through a fantasy world featuring unique characters, including the B.O.C.O. sea monster, and even an underwater quest through the "Minefield of Uncertain Requirements." At the end of the Research World journey, users have an opportunity to take a short UX quiz to see if they can defeat B.O.C.O. and enter to win prizes.
As digital thought leaders for over 10 years, Fresh has previously published over 20 white papers, 50 UX principles, and architected processes for user research, design, and testing. Under their own Fresh Labs, the company develops websites and tools – such as DefeatBOCO.com, applications including InventValue.com, and proprietary hardware – to push the limits of what's possible. This prepares the team to build what's next for some of the largest and most innovative companies worldwide.
About Fresh Consulting
Fresh is an integrated consulting team of designers, developers, and engineers that build fresh experiences people love. From creative brands and intuitive apps to digital hardware and robotics, Fresh works from strategy to execution to create what's next. Powered by their design-led process, innovation technology, and multi-talented teams, Fresh delivers end-to-end experiences and products to help companies grow.