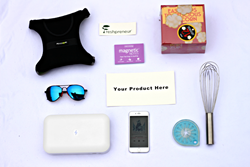 Imagine selling your products on Amazon or Etsy but commission free for each product and forever. That's what early adopters can expect who back this Kickstarter.
Dallas, TX (PRWEB) April 12, 2017
Today marks the kickoff of an ambitious Kickstarter campaign to support crowdfunding entrepreneurs by raising funds to create the largest online marketplace in the country exclusively for crowdfunded products. Early adopters via Kickstarter can sell their products in the marketplace commission free for life. With the goal of building a close-knit community that connects crowdfunding creators of all backgrounds and industries with the fast growing customer base for the latest indie products, this Texas-based company, Freshpreneur, is on the fast-track to staking out claim to the multi-billion dollar post-crowdfunding market.
To learn more about the Kickstarter campaign, click here: http://kck.st/2p07OCU.
The company proudly touts being entrepreneurial itself, having run a small operation for over three years helping over 200 entrepreneurs who launched their ventures on crowdfunding platforms like Kickstarter and Indiegogo. Many of these entrepreneurs expressed their need to grow their reach and audience after crowdfunding. Freshpreneur's marketplace is delivering against this need.
Any entrepreneur who would like to sell his or her crowdfunded products in this marketplace would greatly benefit from one of three campaign reward levels which would allow the entrepreneur to sell unlimited crowdfunded products through the marketplace commission free for 6 months, one year, or for life, respectively.
"Imagine selling your products on Amazon or Etsy but commission free for each product and forever. That's what early adopters can expect who back this Kickstarter," says owner and founder Justin Rogers.
However, what most founders also want is to stay nimble, relevant and personal while empowering their human capital and preserving their company's culture. Freshpreneur understands that scaling a business challenges this ethos and it promises to deliver personal support to all marketplace members.
For people interested in unique purchases, Freshpreneur offers the latest niche crowdfunded products from individuals around the world. It does not want to be a 'big-box' retail shopping destination but a collaborative experience within an ecosystem of creatives, crowdfunding connectors, mavens and enthusiasts. It promises to deliver a user experience based in integrity and believes that people and relationships are a crucial part of that network.
In line with this thinking, Freshpreneur is working with several brands prominently displayed in their campaign to help kickoff this launch, with a goal of raising $19,000. Each of these brands has been similarly crowdfunded, collectively bringing in over $500,000 from their respective fan bases.
"We truly believe in a synergistic approach rather than a sum zero one. Nothing gets off the ground without a team and network of people," explains Rogers. "Whether you are buying or selling in this marketplace you are shaping that network and community."
###
Freshpreneur is a Texas-based crowdfunding blog and e-commerce marketplace. Its mission is to passionately promote crowdfunding entrepreneurs by fostering a community of like-minded creators and doers; movers and shakers, collaborating together in mutual benefit to connect the next wave of crowdfunded products to consumers around the world.