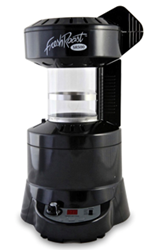 Aside from the fact that roasting your own coffee is easy and fun, it can also save you some serious cash.
Vernon Hills, Illinois (PRWEB) January 25, 2014
Zadoozy, the Internet's best source for top performing products for the home, announced today that it has been authorized to sell Fresh Roast coffee been roasters.
Fresh Roast roasters are available today online and to walk-in customers who visit Zadoozy's Chicago-area showroom.
The showroom displays a number of premium products according to company co-founder Matt Delfino—including Blueair and IQAir air purifiers, SEBO vacuum cleaners, Omega and Hurom slow juicers, Jura and Rancilio espresso machines, Baratza coffee grinders, Riedel wine glasses, Ladybug steam cleaners, and more.
"We are pleased to announce that we now carry the Fresh Roast SR500 coffee bean roaster," says Delfino. "The midlevel price and outstanding quality of the SR500 gets our highest recommendation. Without question, this roaster gives you the biggest bang for the buck."
According to Delfino, coffee bean roasters offer freshness while saving serious coffee lovers money.
"Aside from the fact that roasting your own coffee is easy and fun, it can also save you some serious cash," says Delfino. "That's because quality green beans generally cost less than half the price of roasted beans."
Roasting your own coffee is fresher than buying already-roasted coffee because coffee beans start to lose their aromatic oils just three days after roasting.
"That wonderful aroma you smell at the store is usually the smell of coffee going stale," says Delfino.
Offering only the best of the best, Zadoozy, a take on the slang term 'doozy,' meaning something that is extraordinary, has tested hundreds of products and markets only those that have passed their toughest tests. The company caters to the needs of busy consumers nationwide who don't have the time to comparison shop for themselves and their families.
Zadoozy is so confident that shoppers will love their products that they offer a 90-day money back guarantee.
Headquartered at 1000 Butterfield Road, Suite 1029 in Vernon Hills, Illinois, Zadoozy is an authorized dealer for each brand they sell. Shoppers can keep abreast of the latest news with Zadoozy's Twitter and Facebook accounts, @zadoozy and http://www.facebook.com/zadoozy. Zadoozy is a proud member of the Safer Chemicals, Healthy Families coalition, a nationwide effort to protect families from toxic chemicals.