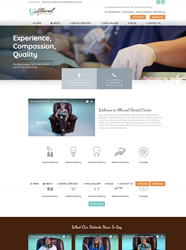 My goal with each patient is to give them a better dental experience than they've had in the past or that they could have imagined. An award that confirms that my patients are ultimately satisfied with their care is one I deeply value, says Dr. Park of Alluvial Dental Center
Fresno, CA (PRWEB) September 29, 2017
Alluvial Dental Center, located at 1875 E Alluvial Avenue in Fresno, CA 93720, is a modern dental practice that provides comprehensive, affordable in-house dental care. The entire family, regardless of their level of dental needs, can enjoy a comfortable and convenient experience at Alluvial Dental Center. The Fresno practice offers basic dental services and those that require specialized training, including advanced cosmetic procedures, Invisalign, dental implants, IV sedation and more.
Dr. Andrew Park leads Alluvial Dental Center with over 15 years of experience in multiple facets of dentistry. He understands that many patients feel intimidated or anxious when visiting the dentist. Therefore, Dr. Park is committed to taking the time with each patient to listen to their concerns and educate them about treatment options. This patient-centered approach is a common theme among the many online accolades for Dr. Park.
Each year Find Local Doctors, a trusted online directory, recognizes the local dentists who have earned five-star ratings and superior reviews from their actual patients. The 2017 Top Rated Fresno Dentist was awarded to Dr. Park of Alluvial Dental Center. Countless patients left high remarks about their first-rate experience at the Fresno dental office. The patient comments included appreciation for advanced dental technology, comfort amenities and valued convenience.
"My goal with each patient is to give them a better dental experience than they've had in the past or that they could have imagined. An award that confirms that my patients are ultimately satisfied with their care is one I deeply value," says Dr. Park of Alluvial Dental Center.
Beyond full service dentistry for all ages, Alluvial Dental Center also offers an in-house dental lab, flexible scheduling hours and emergency services at their Fresno office.
More about Dr. Andy Park:
Andy Park, DDS obtained a BS in Psychobiology from UCLA in 1997 and earned his DDS in 2001 from the University of Southern California. Dr. Park went on to receive extensive training in specialized fields of dentistry, including implant surgical training, cosmetic dentistry and IV conscious sedation training. He is a member of several reputable dental societies, such as the American Dental Society, California Dental Society and Fresno Madera Dental Society. Dr. Park also makes time to give back to the community and help those in need across the globe.
For more information about Dr. Andy Park or the services offered at Alluvial Dental Center, please visit http://www.alluvialdentalcenter.com or call (559) 325-0700.