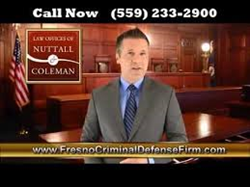 Our Fresno child pornography lawyers have over 100 years of combined experience. We have handled many sensitive cases
Fresno, CA (PRWEB) December 04, 2014
Fresno child pornography lawyers at The Law Offices of Nuttall & Coleman have been helping people who have been wrongly accused or excessively charged with internet crimes like child pornography since the internet became popular. They just launched a new website that provides detailed information about the background of each attorney at the firm and the types of cases they handle. This makes it easier for people who need serious help to find the best match for their case.
"Our Fresno child pornography lawyers have over 100 years of combined experience. We have handled many sensitive cases. We have a lot of experience with federal crimes, most child pornography charges are federal," says Roger Nuttall of The Law Offices of Nuttall & Coleman. The firm is offering no cost consultations to people facing serious charges like child pornography and other felonies.
Fresno criminal lawyers at Nuttall & Coleman know the system and they understand the lifelong effects being convicted of a serious sex related felony like child pornography or child molestation. "We get referrals from respected members of the legal community in Fresno County and surrounding areas. We like to think that makes us one of the most respected lawyers in town," says Mark Coleman of The Law Offices of Nuttall & Coleman. "We do everything we can to help people avoid serious jail time and put a particular focus on helping people avoid becoming registered sex offender, which carries an unfair stigma in some situations."
Fresno criminal defense lawyers at The Law Offices of Nuttall & Coleman handle all types of criminal matters ranging for petty theft and record clearance to homicide and other serious violent crimes. "Our team has handled all types of criminal cases in Fresno and throughout the valley. We are respected by the prosecutors and we are known by the judges. We understand the decision of which criminal defense attorney to hire is one of the most important decisions an accused person can make during a tough period in life," says Johnathan Rooker of Nuttall & Coleman.
In addition to serving Fresno the legal professionals at The Law Offices of Nuttall & Coleman are also experienced Clovis child pornography lawyers. "We have been helping people in Clovis since we started our practice," says Roger Nuttall. "We treat all of our clients with a high level of respect because we have a deep understanding of what they are going through. We do everything we can to preserve the freedom of our clients."
To learn more about The Law Offices of Nuttall & Coleman of Fresno County or the options for hiring a Clovis child pornography defense lawyer please visit their new website. People who are accused of child pornography or other serious crimes are encouraged to call the firm immediately at (559) 233-2900 to start protecting their rights and freedom. There is no charge to people calling the firm to discuss their case. Experienced lawyers at Nuttall & Coleman are available for a no cost consultation at (559) 233-2900.
Law Offices of Nuttall & Coleman
2445 Capitol St
#150
Fresno, CA 93721
(559) 233-2900