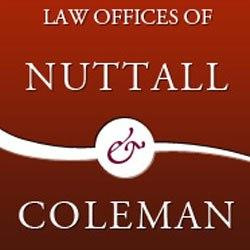 We get referrals from the most respected and powerful people within the community and the judicial system. We think that says a lot about our firm and the quality of the criminal defense work we do here
Fresno, CA (PRWEB) October 30, 2014
Fresno sexual assault Lawyers and sexual misconduct attorneys at the Law Offices of Nuttall & Coleman have been defending people accused of crimes for over 30 years. During that time they have developed a reputation for aggressively defending the rights of the accused. They are now offering a no cost consultation with a senior attorney. "We get referrals from the most respected and powerful people within the community and the judicial system. We think that says a lot about our firm and the quality of the criminal defense work we do here," says Roger Nuttall of the Law Offices of Nuttall & Coleman in Fresno.
Fresno criminal defense lawyers should be hired with care according to Roger, "When your freedom and future are at stake it should be your top priority to secure the best legal team you can. We help people avoid becoming registered sex offenders if they have been wrongly accused of a crime or law enforcement has exaggerated the severity of the situation."
People who are convicted of sex crimes in California including Fresno County are required to have their personal information including their current address available in a publicly viewable database because of Megan's Law. Mandatory registration for convicted sex offenders can have a lifelong impact on the registrant according to Roger, "Avoiding mandatory sex offender registration is extremely import to most of our clients who are wrongly accused of these types of crimes. It becomes extremely difficult for registrants to obtain employment or even live a private life even though they have repaid their debt to society." Fresno sex offense defense lawyers at the Law Offices of Nuttall & Coleman in Fresno have the skill and experience required to achieve the best available outcome for their clients.
In addition to sexual assault and misconduct cases the Fresno sex offender registration defense lawyers at Law Offices of Nuttall & Coleman also handle other serious sex offenses such as rape, child molestation, date rape, child pornography, indecent exposure and prostitution. To learn more about the firm please visit their website. To schedule a no cost consultation with an experienced sex crime defense lawyer at the Law Offices of Nuttall & Coleman.
Law Offices of Nuttall & Coleman
2445 Capitol St
#150
Fresno, CA 93721
(559) 233-2900