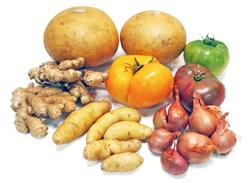 Los Alamitos, CA (PRWEB) November 20, 2013
Frieda's 5 Flavor Essentials is a new fresh produce movement that seeks to encourage home cooks to expand their flavor horizons with these five widely available specialty fruits and vegetables: Shallots, Fresh Ginger, Fingerling Potatoes, Jicama, and Heirloom Tomatoes. The 5 Flavor Essentials are widely distributed by Frieda's Specialty Produce to supermarket produce departments across the United States.
Women-owned Frieda's Inc. has long been introducing lesser-known produce items to U.S. consumers, and it all started with the Kiwifruit back in 1962. Frieda's 5 Flavor Essentials continues the company's mission "to change the way America eats fruits and vegetables" by turning specialty produce into must-have ingredients in U.S. homes. Much like the "pantry essentials" list of ingredients every kitchen should have, Frieda's 5 Flavor Essentials are fresh specialty produce items you should always have on hand to elevate your everyday menu.
"Many home cooks feel intimidated by specialty produce, and we are here to show them that they shouldn't be," said Karen Caplan, Frieda's Specialty Produce President and CEO. "These fresh ingredients are simple to incorporate into any meal to boost flavors, and are widely available."
What makes these flavors so essential? Shallots have a slightly sweet combination of onion and garlic flavor, while Ginger is used around the world and treasured for its spicy, clean taste and medicinal benefits. No peeling needed, Fingerling Potatoes are easy to prepare and eat. They also come in many varieties, with several different colors, textures and flavors. Heirloom Tomatoes, also available in a beautiful array of colors and sizes, boost flavor profiles from candy-sweet to juicy and mild. Also known as a Mexican potato, Jicama ("Hee-Ka-Ma") is a versatile vegetable with a juicy, crisp, potato-apple like texture and mildly sweet flavor that can be enjoyed fresh or cooked.
"Whether you pair these fresh ingredients together or feature them individually in recipes, our 5 Flavor Essentials can easily bring a little everyday gourmet to the table," added Caplan.
Here are some interesting facts about Frieda's 5 Flavor Essentials:

Shallots are grown in more than five countries with the Dutch Ambition and the French Conservor varieties being the most well-known. The Conservor is the most commonly available variety in U.S. supermarkets.
Ginger is revered around the world for its medicinal properties, especially its use as a digestive aid.
Fingerling Potatoes are available in several varieties, each with their own flavor profile, including Russian Banana, French and Ruby Crescent.
Jicama, the next big superfood, is an excellent source of vitamin C and fiber, and reduces the risk of cancer and keeps you looking young.
One large Heirloom Tomato is equal to a one-cup serving of vegetables.
Detailed information and preparation instructions for each item can be found on the company's website, along with a collection of recipes featuring the ingredients.
Frieda's continues to lead trends in specialty fruits and vegetables. In January, the company declared 2013 as The Year of Purple, encouraging the consumption of purple-hued fruits and vegetables as a way to get a daily punch of healthy antioxidants and anthocyanins while enjoying the beauty of purple on the American plate.
About Frieda's Inc.
Frieda's Inc. celebrates more than 50 years of innovation in fresh produce. Founded in 1962 by Frieda Caplan, Frieda's was the first wholesale produce company in the U.S. to be founded, owned and operated by a woman, and is still a family- and women-owned business today. With the mission of changing the way America eats fruits and vegetables, Frieda's has introduced more than 200 specialty items to U.S. produce departments, including Kiwifruit, Spaghetti Squash, Habanero Peppers, Black Garlic and many more. Frieda's officially declared 2013 as the Year of Purple. Find Frieda's on Facebook, @FriedasProduce and http://www.friedas.com.