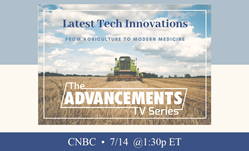 JUPITER, Fla. (PRWEB) June 28, 2019
Advancements with Ted Danson will broadcast a new episode on Sunday, July 14th at 1:30p ET via CNBC. Dedicated to recent developments in technology, the show will educate and enlighten audiences on a number of game-changing breakthroughs. Tune in to CNBC and check your local listings for more information on this program.
Providing high-performance matting systems across an array of industries that require the durability and longevity of thermoplastic material for site access or temporary work surfaces, Newpark Mats & Integrated Services will be featured for its precision engineered DURA-BASE® product, which is the most field-proven and best-selling mat system on the market.
Backed by more than 50 years of industry experience, AgYield's revolutionary software program provides producers with a detailed look at the past, present, and future of their operations' revenue. Watch to hear how AgYield allows producers to test custom market strategies at all price and yield scenarios, so they know how their bottom line will be affected before making a final decision.
Go behind-the-scenes to see how innovative precision harvesting is helping farmers make better informed decisions and increase profitability. Focusing on Estes Performance Concaves (EPC), Advancements will discover how state-of-the-art solutions and cutting-edge technology is helping producers decrease grain damage, while increasing yields for years to come.
With two pre-investigational new drug applications already submitted to the FDA, MMJ International Holdings (MMJ) is working to bring relief to patients suffering from multiple sclerosis and Huntington's disease. This segment will explore the science of medical cannabis and how research on cannabidiol, or CBD, is helping people manage symptoms associated with Huntington's and other like diseases.
"Educating the public about the newest developments taking place across the globe helps to spread and foster innovation. We enjoy creating educational content and take pride in bringing this vital information to our viewers," said Richard Lubin, senior producer for the Advancements series.
About Advancements with Ted Danson:
The Advancements television series is an information-based educational program, targeting recent advances across a number of industries and economies. Featuring state-of-the-art solutions and important issues facing today's consumers and business professionals, Advancements focuses on cutting-edge developments, and brings this information to the public with the vision to enlighten about how technology and innovation continue to transform our world.
For more information visit AdvancementsTV.com or call (866) 496-4065.