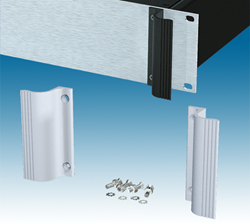 COMBIMET has been such a success story for us and the handles are just one facet of that.
Bridgeville, PA (PRWEB) April 16, 2014
Metal electronic enclosures manufacturer METCASE has added extruded handles to its range of accessories for custom 19" front panels, rack cases and chassis.
The new ergonomic handles make it easier to fit the front panels or chassis into cabinets or remove them during installation and maintenance, speeding up servicing times.
These handles were first launched as a distinctive feature of the bestselling COMBIMET range that METCASE introduced last year.
And they proved to be so popular that customers began asking if they were available to retro-fit to other 19" enclosures.
Now METCASE has made it easier for customers to order them by formally adding them to the accessories range.
The simple but effective construction of the handles makes it very easy to fit them to custom 19" chassis or rack cases and 19" front panels produced by other manufacturers.
The handles are available as standard in five sizes: 1U, 2U, 3U, 4U and 6U. The width and depth of each handle is 1.574" x 1.181". Other U sizes – such as 5U – can be supplied on demand. Two colors are offered, Light Gray (RAL 7035) and Black (RAL 9005). Custom colors are available to order.
Each handle kit contains two handles plus a full set of fixings: M4 x 16 mm screws, M4 lock washers and M4 nuts. These allow easy assembly to any size of panel or chassis.
Their extrusion-based format means they can be cut to any desired size, reducing the cost of customization.
METCASE Vice President, Sales, Sean Bailey said: "COMBIMET has been such a success story for us and the handles are just one facet of that.
"We worked very hard to make COMBIMET a high quality, great value proposition and the market rewarded our efforts by making it our number one 19" rack case," he added.
METCASE, the metal enclosures division of OKW, manufactures four ranges of rack mount cases – VERSAMET, COMBIMET, UNIMET and METTEC – plus nine other ranges of desktop, portable, wall mount enclosures and diecast boxes.
The four 19" rack enclosure ranges have been designed to offer different panel configurations:

COMBIMET cases with fixed front, removable top, base and rear
VERSAMET cases with fixed front, removable base and rear
METTEC (removable front)
UNIMET (removable front, base and rear)
Accessories for them include ABS case feet which are available either with or without tilt legs. Like the handles, the feet are an extremely popular retro-fit option.
They come in three colors: Light Gray (RAL 7035), Off White (RAL 9002) and Black (RAL 9005). Each kit contains four feet, four rubber inserts and four self-tapping screws.
Other accessories for 19" cases include:

front panels – anodized aluminum, 1U x 19", 2U x 19", 3U x 19", 3U x 10.5"
19" mounting kits – with four M6 caged nuts, four M6 screws and four ABS plastic cup washers (Gray or Black)
front panel trims – 1.969" & 1U case; 3.346" & 2U; 4.724"; 3U case; 5.905"
PCB mounting kits – 10 x M3x10 mm molded pillars; 10 x M3x6 mm countersink screws.
METCASE enclosures can be fully customized. Services include made-to-measure sizes; internal mounting plates and brackets; CNC milling, drilling and punching; painting and anodizing; silk-screen or tampo printing of legends and logos.
For further details, please view the METCASE website or contact Sean Bailey, Tel: 800-965-9872.
-Ends-
Notes For Editors
METCASE specializes in the design and manufacture of high quality aluminum enclosures for the electronics industry. The METCASE range has been designed to allow for modifications to be carried out with ease.
Special sizes and versions of the enclosures can be produced in batch quantities from as little as 10 units. This flexibility provides design engineers with an exceptional range of options for developing new products and variations.
METCASE is a division of the OKW Group.
OKW Enclosures, Inc
3000 Old Pond Road
Bridgeville, PA 15017
Phone: 412 220 9244
Fax: 412 220 9247