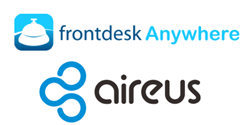 We are thrilled to be selected by Frontdesk Anywhere as a preferred POS partner. We're excited to provide a technology platform on which we can work together by providing cutting edge best of breed solutions to our mutual customers
San Francisco, CA - Markham, Ontario (PRWEB) September 10, 2014
The Aireus partnership with hotel management software firm Frontdesk Anywhere brings now the powerful POS software on the iPad to hoteliers. Hotel operators can also now benefit from the portable POS tool and make business more efficient as the system is fully operational.
Aireus' iPad based POS system works right out of the box. The company has successfully harnessed the power and flexibility of the iPad to make it easier for the restaurants and bars to manage operations completely in the cloud.
"We are thrilled to be selected by Frontdesk Anywhere as a preferred POS partner and we're excited to provide a technology platform on which we can work together by providing cutting edge best of breed solutions to our mutual customers as we look forward to a long and successful partnership," said Paul Perri, Executive Vice President COO, Aireus.
"Operational efficiency is crucial for hoteliers. Frontdesk Anywhere is always looking for new ways to streamline processes and make life easier for hotels and their staff so they can concentrate on what's most important; the guest experience. Aireus is a next generation cloud POS system which perfectly addresses our customers needs and expectations. We're delighted to welcome Aireus into our web-based ecosystem of partners and look forward innovating together to better the overall experience for guest and hotelier alike", stated Joe Kiernan, Co-Founder and CTO, Frontdesk Anywhere.
Many of Frontdesk Anywhere's users run a restaurant or a bar. Like Aireus' users, they can take advantage of hundreds of innovative and amazing features – all with a few touches. For example they can take orders from anywhere, get instant pairing recommendations to help up-sell, transmit orders directly to the kitchen, accept payment, conduct surveys or reward repeat customers.
The integration of Aireus with Frontdesk Anywhere has created another time-saving and very useful feature: POS charges are directly transferable to a guest's room. Whether it's the hotel bar, restaurant, gift shop or spa, both single and multiple POS items can be instantaneously transferred to a guest's folio providing a seamless experience for the guest and property alike.
Mobility and flexibility are key benefits of the integration. Staff can collect POS charges anywhere, saving time, money and hassle by offering guests even more ways to pay using their preferred methods.
Frontdesk Anywhere's integration with Aireus makes it easier for the diverse needs of busy properties by offering a quick and convenient transfer system on the go. Through this new partnership, hoteliers can better streamline their sales process and manage their point of sales even more efficiently in the cloud.
About Aireus
The Aireus restaurant software solution can be implemented at a single or multi-unit property and can scale to a business with thousands of iPad's spread over many properties. Users are able to create and define new menu items, employees, discounts, tender methods and much more all across a single restaurant or enterprise properties. Because you can simply just log into the back-office portal from any browser this allows users true mobility and freedom to be anyplace, anywhere, anytime to make changes to their configuration. With modern architecture, Aireus allows for scalability, resiliency, integration, and flexible configuration deployment options, Aireus is the complete enterprise solution to orchestrate your restaurant POS technology needs. Aireus is known in the industry for providing innovative, high tech systems to its many valued customers, and its iPad POS systems are among the most cutting edge options available.
For more information about Aireus and its POS software, please visit http://www.aireus.com/
About Frontdesk Anywhere
Frontdesk Anywhere is a leading provider of innovative hotel management software for independent properties and management groups in the cloud. Currently, over 500,000 monthly room nights are managed with Frontdesk Anywhere - at hotels, motels, inns, B&B, campgrounds and other accommodation facilities. The company is focused on converging processes traditionally performed by separate systems into a robust, all-in-one productivity application. All modules are seamlessly integrated within the application and accessible from any computer or connected mobile device. The company is a privately held corporation based in San Francisco, California and operations center in Florida. For more information about Frontdesk Anywhere and its hotel management software product, visit http://www.FrontdeskAnywhere.com or email sales@frontdeskanywhere.com