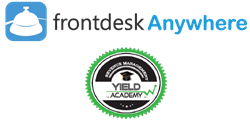 Frontdesk Anywhere and PriceMatch are both very innovative companies working together towards revenue maximization for hotels.
San Francisco, CA and Paris, France (PRWEB) October 29, 2014
Frontdesk Anywhere, a leading property management system (PMS), announced today its partnership with PriceMatch, creator of the Yield Academy, to educate hoteliers about revenue management. This partnership will provide hotels with the opportunity to acquire more knowledge about this crucial aspect of hotel management. The one-day Yield Academy is free for hoteliers.
The Yield Academy is a program created by the company PriceMatch, a leader in revenue management solution for hotels and one of the most proactive Cloud-based software when it comes to education as well as paving the way of the age of democratic revenue management.
The topics covered during the events include: revenue management strategies, online distribution, maximization of return on investment and rates optimization as well as the latest innovations, technologies and trends of the travel and hospitality industry.
There are several Yield Academy conferences organized across France and the United States. Five conferences will be held in the French cities of Nice, Lyon, Toulouse, Montpellier and Nantes in France as well as one in San Francisco, California. David Dongais, Founder at Actimum Consulting, and Ian Decaix, CEO at Gyro Conseil, will be among the expert speakers. Nadim El Manawy, Senior Manager of Strategic Partnerships at Frontdesk Anywhere, will discuss the benefits of Cloud computing for the hospitality industry.
"PriceMatch is very proud to officially announce the participation of Frontdesk Anywhere in our Yield Academy program all around France. Frontdesk Anywhere and PriceMatch are both very innovative companies working together towards revenue maximization for hotels. We are looking forward to building a long-lasting and profitable relationship through the Yield Academy Program," said Khalid El Guitti, Executive Director and Co-Founder PriceMatch.
The events are free for hotel operators and anyone who manages, owns or operates hotels is encouraged to attend. Yield Academy events enable hotels to:
· Get precious knowledge from experts in revenue management
· Stay up-to-date on revenue management best practices
· Meet and network with their peers
· Set themselves apart from their competitors
"We are very excited to be part of the Yield Academy program," stated Thomas Lyle, Co-Founder and CEO, Frontdesk Anywhere. "PriceMatch is a company that is truly committed to assisting hotels to manage their revenue management in an efficient and innovative manner. Like PriceMatch and the Yield Academy, we are firm believers in education empowering people and we are very happy to support their mission."
About PriceMatch
PriceMatch helps hotels manage their pricing strategy. Our different products address the different needs of hoteliers: from our top-notch rate-shopping tool (multi-sources, 400d time horizon, live update, email alerts, unlimited competitors, aggregated demand forecasting) to our advanced revenue management platform. Our award winning revenue management platform was designed for hoteliers and revenue managers, and features an extremely intuitive and easy-to-use interface, accurate and transparent forecasts and recommendations, and is supported by our team of helpful and proactive revenue managers.
For more information, please visit http://www.pricematch.travel.
About Frontdesk Anywhere
Frontdesk Anywhere is a leading provider of innovative cloud based hotel management software for independent properties and management groups. Currently, over 850,000 monthly room nights are managed with Frontdesk Anywhere - at independent hotels, resorts and other accommodation facilities. The company is focused on converging processes traditionally performed by separate systems into a robust, all-in-one productivity application. All modules are seamlessly integrated within the application and accessible from any computer or connected mobile device. The company is a privately held corporation based in San Francisco, California.
For more information about Frontdesk Anywhere and its hotel management software product, visit http://www.FrontdeskAnywhere.com or email sales(at)frontdeskanywhere(dot)com.