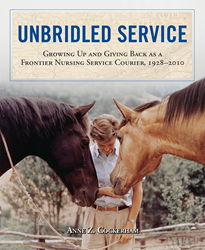 Couriers' work helped preserve the nurses' time and energy needed to care for impoverished mountain families. Couriers were companions and guides, riding instructors, and nurses' aides. - Anne Z. Cockerham
Hyden, KY (PRWEB) April 29, 2014
Frontier Nursing University (FNU), an Eastern Kentucky-based graduate school of nursing and midwifery, is proud to announce the release of Unbridled Service: Growing Up and Giving Back as a Frontier Nursing Service Courier, 1928-2010, by Dr. Anne Z. Cockerham. This book offers a unique insight into a largely unknown part of Kentucky's history by telling the colorful stories of young people doing service on horseback in Appalachian Kentucky through the Frontier Nursing Service Courier program which began in the late 1920s.
FNU's Courier Program is a service learning internship with a rich and adventuresome history that targets undergraduate college students interested in public health, health care, social work or a related field. For more than 80 years, the Courier Program has offered a unique opportunity for students to gain insight into the challenges and opportunities of providing healthcare in rural and underserved communities. The program's rural healthcare focus closely matches with the University's mission of educating nurse-midwives and nurse practitioners to serve women and families, with an emphasis on rural and underserved areas.
Using firsthand accounts, and historical images and documents, Unbridled Service affords readers a thrilling, moving, behind-the-scenes look at the Frontier Nursing Service Couriers, from the program's inception in 1928 through 2010, when the program entered a period of expansion. The author shares, "Couriers' work helped preserve the nurses' time and energy needed to care for impoverished mountain families. Couriers were companions and guides, riding instructors, and nurses' aides."
Many of the approximately 1500 former Couriers have gone on to work in healthcare and public health careers focused on serving rural and underserved populations. Today's Couriers continue the long tradition of service and adventure. Former 1977 Courier, Marian Leibold shares, "I came to help where help seemed needed, drawn in by a spirit of adventure and the romance of a service once provided by nurses on horseback. In seeking my own life's future direction, I was completely intrigued by the organizational mission and was particularly inspired that it was started by a woman."
The spring launch of this book included several book signing events as well as a panel discussion and reading hosted by the University of Kentucky Appalachian Center. The author, Dr. Anne Z. Cockerham, serves as Associate Dean of Midwifery and Women's Health and Professor of History at FNU and is also a Certified Nurse-Midwife and Women's Health Care Nurse Practitioner.
For details and to purchase your copy, visit http://www.frontier.edu/UnbridledService.
###
Frontier Nursing University's Mission:
Frontier Nursing University is a private, non-profit, non-residential graduate school of nursing offering community-based, distance education programs leading to the Doctor of Nursing Practice degree, the Master of Science in Nursing Degree and/or post-master's certificates in advanced practice nursing specialties. Our mission is to educate nurses to become competent, entrepreneurial, ethical and compassionate nurse-midwives and nurse practitioners who are leaders in the primary care of women and families with an emphasis on underserved and rural populations.