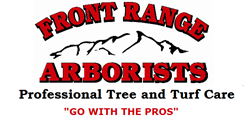 "We appreciate our customer's loyalty to us and we appreciate their trust in us to do excellent work," said Tom Flynn, Owner of Front Range Arborists and a Certified Arborist.
Colorado Springs, CO (PRWEB) May 31, 2014
An institution along the Front Range since 1984, Front Range Arborists are pleased to invite their community in celebrating their 20th anniversary. Through the years, the Front Range Arborists staff has been happy to serve their clients with top quality arborist services.
When asked what it means to reach their 20th anniversary, Front Range Arborists owner and certified arborist Tom Flynn said, "To us it means success in the industry. We are happy and proud to retain customers from the first year and we continue to grow annually. This reflects the effort we put into customer service."
When a homeowner or business owner in and around the Colorado Springs area is in need of shrub and tree services, Front Range Arborists are standing by with the knowledge and expertise required to get the job done right. They can handle tree trimming, tree removal, fire mitigation, and other tree care contracts of any size for both residential and commercial properties. They also provide turf and plant health care with fertilization, winter watering, and pest control services for private and public lands.
For 20 years, customers along the Front Range have made Front Range Arborists the go-to name in arborist services and Tom Flynn stated that "We appreciate our customer's loyalty to us and we appreciate their trust in us to do excellent work."
One of the top services Front Range Arborists provides for both residential and commercial customers is fire mitigation. Fire mitigation is a serious issue in Colorado and Front Range Arborists can help individuals protect their household this summer by conducting a thorough review of the trees on their property. Front Range Arborists has the knowhow and equipment to prevent a problem before it happens. With 20 years of experience under their belts, they inherently know the ins and outs of fire mitigation and can give individuals the guidance and support they need to make the right choice for their home.
Informed landowners along the Front Range also know the challenge presented by pine beetles. These hungry insects burrow into healthy pine trees and let in fungi that can harm and kill the trees. As lifelong experts in tree health, Front Range Arborists are helping their clients combat these pests by offering comprehensive spraying and prevention services. They are pleased to also announce their successful beetle prevention work with Rocky Mountain National Park; The United States Forestry Service - Colorado; Crazy Horse, South Dakota; and Montana. Front Range Arborists is proud to continue their service with the aforementioned institutions and safeguarding the forests for future generations.
Looking forward to the future, "Front Range Arborists expects to continue to be the leader in the tree care industry along the Front Range," said Tom Flynn. "With our employees' continued training, education and customer service, Front Range Arborists as a company will follow that path to excellence in the following years."
Based in Colorado Springs, CO, Front Range Arborists Inc. offers arborist services including pest control and beetle prevention, fire mitigation, tree removal, tree trimming, and more tree services. Serving Colorado Springs, Woodland Park, Fountain, Monument, Black Forest, Manitou Springs, and other surrounding areas. Call Front Range Arborists Inc. at (719) 227-1962 or visit their website at http://frarborists.com for a free estimate today!