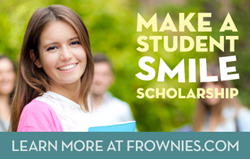 Dayton, OH (PRWEB) November 14, 2013
Fifth generation operator and CEO of Frownies Anti-Wrinkle and Anti-aging Skin Treatment line, Kat Wright, raised five children while managing the family Anti-wrinkle business. Frownies is changing the face of America one line at a time with anti-wrinkle Facial Patches and natural skin care. Kat Wright, on behalf of Frownies anti-aging skin care, wants to help young people dedicated to the goals of living well and keeping their debt low have a chance at financial support while pursuing their education.
"The opportunity to give back to the youth of America is just another way to live out Frownies' commitment to reducing signs of stress by giving back to the next generation of leaders," said Wright. "We are excited to give this scholarship to a deserving winner, helping someone complete their education with less financial burden and stress. At Frownies, we are dedicated to making futures brighter."
The annual one thousand dollar scholarship ($1000.00) has a few simple requirements and can relieve part of the financial burden for one lucky student each year. Students are simply required to submit an essay on why they should be chosen for the scholarship by March 7, 2014 for a chance to win. To apply or learn more, go to [Frownies Skin Care Scholarship.
The B & P Company was founded in 1889 by Margaret Kroesen the great, great grandmother of the Wright family. Frownies Facial Patches are an all-natural patch used to reduce the signs of wrinkles on the face. Frownies Facial Patches re-educate the facial muscles, training them to assume their correct, relaxed and natural appearance by softening deep lines and wrinkles. Frownies skin care is an all natural, vegan, plant base system created to slow the signs of aging and reduce wrinkles. Purity and efficiency is the base of the commitment behind all Frownies fine skin care products. From Margaret Kroesen to Kat Wright, five generations of women in the same family, caring for women's skin aging concerns.
Contact:
Kat Wright ND
B & P Company, Public Relations
Phone: 800-648-6891
Fax: 937–298–8064
97 Compark Rd.
Dayton, OH 45459
kwright(at)frownies(dot)com
http://www.frownies.com