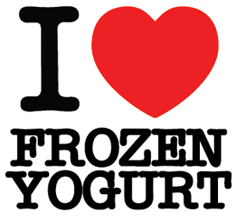 Price wise, even though you'd expect us to be more expensive than other franchised, gourmet or event catering businesses/products, we are not
QLD, Australia (PRWEB) October 21, 2013
I Love Frozen Yogurt (ILFY), a frozen yogurt company based in Australia, has just launched its brand new mobile frozen yogurt van. The fun, funky and modern van is sure to change the way frozen yogurt—or froyo—is eaten throughout the Gold Coast, Brisbane, Sunshine Coast and Northern Rivers Regions in Australia.
In addition, ILFY has also announced their plans to create an "anti-franchise" model that will help to bring more of the mobile froyo vans to other parts of the state and country.
From the colourful design of the van's service area, which features an opulent red high gloss finish which looks like a fancy frozen yogurt store once the back door is opened, to their unique menu selection that is a gastronomic journey for the beginner to the experienced froyo enthusiast, both ILFY's van and products are completely original. The van's artwork, which is courtesy of 40/40 Creative, is a true masterpiece of graffiti brilliance, both inside and out.
As a spokesperson for ILFY explained, the original plan was to mainly service festivals, sporting events, markets, fetes, and other events with the mobile froyo van.
"However, customers on our mobile coffee van run, which is our other family run business in the Gold Coast are requesting that we serve coffee in the morning, and frozen yogurt in the afternoon—especially with temperatures rising as we head into the sweltering heat of the Australian summer sun," the spokesperson said.
"So as any good business would do, we are adapting and evolving and growing to meet the demands of the consumers, which is a true win/win situation for everyone."
The new ILFY mobile frozen yogurt van allows customers to select from the "flavoured swirl" or "el natural" froyo. After choosing to have their frozen yogurt in a cup or cone, they can then select from six real fruit purees to finish off their tasty treat.
"Price wise, even though you'd expect us to be more expensive than other franchised, gourmet or event catering businesses/products, we are not," the company spokesperson said.
"We are not in business to rip people off, we offer a great product at affordable prices, giving massive value for money—especially in this day and age—and we do so with smiles on our faces, which is imperative in any industry, especially the hospitality industry."
Anybody who would like to learn more about the ILFY mobile froyo vans is welcome to "like" the company's Facebook page; there, they can also see photos of the van and posts from happy customers.
About I Love Frozen Yogurt:
The founders of ILFY love frozen yogurt in all shapes and forms; their new ILFY frozen yogurt vans deliver frozen yogurt in a fun, friendly, and healthy manner to events, fetes, carnivals, parks, beaches, and other venues where people love froyo just as much as they do. For more information, please visit http://ilfy.com.au/.