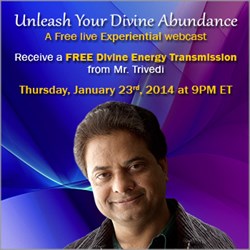 Abundance Is Your Divine birthright. I will show you how to claim what is already yours.
Las Vegas, NV (PRWEB) January 19, 2014
Trivedi Master Wellness™ is going to organize a free live experiential webcast 'Unleash Your Divine Abundance'' on January 23, 2014 at 9PM ET.
On this live experiential webcast people will:

Hear about the astounding results of scientific studies that have been conducted on The Trivedi Effect®.
Learn how tens of thousands of people have reported near-miraculous improvements in their physical, mental, emotional, sexual, spiritual, social and even financial well-being.
Discover how they can directly benefit in all aspects of their life through Master Wellness Programs™.
Receive a Divine Energy Transmission directly from Mahendra Trivedi which will allow them to immediately start experiencing the miraculous impact of The Trivedi Effect® in their lives
The Trivedi Effect® is a popular process of transforming living organisms and non-living materials in a way that they start to perform at their highest level. Mahendra Trivedi and the three Trivedi Masters™ possess the ability to transmit Universal Energy to recipients located anywhere across the globe. This is done through the power of their thoughts.
The Energy Transmissions of Mahendra Trivedi known as The Trivedi Effect® have not just created abundance in the lives of tens of thousands of people, they have also transformed plants, animals, microbes and even non-living materials and Mahendra Trivedi has the scientific evidence to prove it.
Scientific communities throughout the world have been astounded by the impact of The Trivedi Effect®. Its ability to transform recipients has been found to have occurred without the placebo effect. Mahendra Trivedi carried out a number of scientific experiments in collaboration with prominent scientists at respected international research institutes and universities.
It has been reported by many people that Mahendra Trivedi's transmissions have improved their business, advanced their careers and transformed their finances. The Trivedi Effect® has even deepened relationships and helped people discover their life purpose.
If The Trivedi Effect® can do so much for so many, it can bring transformation to the lives of those who experience Energy Transmissions from Mahendra Trivedi. People can participate in this free live webcast 'Unleash Your Divine Abundance' from the comfort of their own homes.
To find out more about The Trivedi Effect® or to register for this phenomenal event please visit http://www.trivedimasterwellness.com/divine-energy-transmission-webcast/. If you know someone that may be interested in this event or would benefit from an Energy Transmission please let them know about this valuable event.
Websites: http://www.trivedimasterwellness.com/ and http://www.trivedieffect.com/.
Call us on: +1-877-493-4092 or mail us at: cs(at)trivedieffect(dot)com