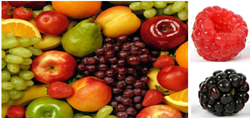 Dallas, Texas (PRWEB) June 26, 2014
Fruits and Berries - Nutrition and Health: Market Trends and Insights analyses the most popular used fruit and berries and how they are sourced and used in industry processed formats as food ingredients. The report provides in depth insight into the nutritional and bioactive benefits of each individual fruit or fruit component with a thorough scientific evaluation of latest science developments. The report brings insight into the global and regional supply situation of the raw materials, how the soft drink usage is distributed across regions and category types.
Key Findings

The fruit preparation and ingredient industry is increasingly identifying and refining fruit and berry based ingredients with a focus to optimize the nutritional and health beneficial qualities.
The growth in scientific evidence and associated patent protection is increasing dramatically.
The supply situations of certain popular fruits are constrained whereas others are in good shape.
Raw material supply for processed ingredients are in some cases moving away for traditional export countries to new low cost production regions.
The use of fruit and berries within the soft drink industry is still traditionally within the categories of juices and nectars followed by still drinks, whereas the popularity increasing categories as teas, energy and sports drinks are lacking behind.
Order a purchase copy of this report @ http://www.rnrmarketresearch.com/contacts/purchase?rname=191916.
Health and wellness drive global product development in the consumer products industry. Fruits and Super fruits are at the forefront of this industry trend. Products from fruits such as pomegranate, blueberry, açai, and baobab, command a premium price for their reputed beneficial effects.
There are several tropical fruits that hold potential interest for the soft drinks industry. Most of these are not available commercially, due to demand and supply issues. Soft drink manufacturers are unlikely to introduce new products unless they are certain that supplies of the raw material and derived ingredients are going to be available. At the same time, procurement functions cannot guarantee contracts until launching the product and ascertaining demand. In addition, the ingredient producer has little incentive to make the necessary investment to guarantee such supplies until assured that there will be a revenue guarantee.
The last decades of research also reveals that in addition to being abundant sources of vitamins, minerals, fibers, and microelements, fruit and berries contains key active substances, supporting a healthy lifestyle. A general agreement amongst health experts is that increased dietary intake of antioxidant compounds such as phenolics from fruits and vegetables can protect against the oxidative damage from free radicals.
Complete Report Available @ http://www.rnrmarketresearch.com/fruits-and-berries-nutrition-and-health-market-trends-and-insights-market-report.html.
Reasons to Buy

The readers interested in fruit processing and ingredients development gets a comprehensive overview of the potentials of using fruit and berries in future product innovations.
The marketers of fruity beverages can identify current trends and learn about background and health capabilities per fruit.
The procurement functions sourcing these types of ingredients gets an understanding of the current state of the raw material supply and who operates the processing industry of fruit and berry ingredients.
Developers and nutritional experts receive a comprehensive overview of nutritional and health benefits per fruit.
Table of Contents:
1. Introduction
1.1 Report Description
1.2 Research Methodology
2. Executive Summary
3. Introduction to Fruit Health and Supply Trends
3.1 Industrial Fruit Based Ingredients
3.1.1 Processing
3.2 Fruit Categories
3.2.1 Definitions
3.3 Ingredient Opportunities
3.4 Nutritional Benefits
3.5 Market Protection Activities
3.6 Health Claims
3.7 The Superfruits
4. Berries
4.1 Açai Berry
4.2 Aronia Berry
4.3 Blackcurrant
4.4 Blackberry
4.5 Blueberry
4.6 Cranberry
4.7 Elderberry
4.8 Grape
4.9 Raspberry
4.10 Strawberry
4.11 .Tomato
5. Citrus Fruits
5.1 Grapefruit
5.2 Lemon
5.3 Lime
5.4 Blood Orange
5.5 Orange
5.6 Mandarin/ Clementine
5.7 Tangerine
6. Pome Fruits
6.1 Apple
6.2 Pear
7. Stone Fruits
7.1 Acerola
7.2 Apricot
7.3 Cherry, Sweet and Sour
7.4 Mango
7.5 Peach
8. Other Fruits
8.1 Banana
8.2 Guava
8.3 Kiwifruit
8.4 Papaya
8.5 Passionfruit
8.6 Pineapple
8.7 Pomegranate
8.8 Watermelon
9. General Sources
10. Glossary
11. Appendix
Explore more reports on Fruits & Vegetables industry at http://www.rnrmarketresearch.com/reports/food-beverage/food/fruits-vegetables.
About Us:
RnRMarketResearch.com is an online database of market research reports offer in-depth analysis of over 5000 market segments. The library has syndicated reports by leading market research publishers across the globe and also offer customized market research reports for multiple industries.