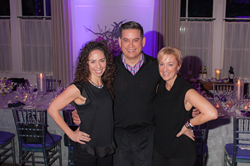 We're taking "logistics company" out of our vernacular – we are now connection connoisseurs.
San Francisco, CA (PRWEB) February 10, 2016
On a recent rainy Thursday, fifty guests pulled into the secluded, tree-lined Meadowood resort in Napa a bit curious. Hungry for a new type of retreat, one promising to reset their personal and professional dial, they'd registered for TPG's For the Love of YOU, but didn't quite know what to expect. Some brought water bottles and yoga mats, others carried fancy evening duds and an appetite for the fabulous meal experiences that were promised.
While attendees shyly approached the registration desk as if it were the first day of school, Deb Parsons, President of TPG, knew exactly what the group would experience. "This has long been a dream of mine," she said. "For the Love is a disruptive idea for the events industry. While many third parties wait for their clients to ask them to create events, I decided to bring an event to them." Deb explained how she'd carefully curated speakers, meal experiences, gifts – all to form the type of retreat she would want to attend. Oh, and that first day shyness? That was gone after the first glass of Pinot Gris at the welcome reception.
As the name indicates, For the Love of YOU was established to offer guests multiple moments that felt personally rewarding. The event website called for the smart, the irreverent, the funny, and the curious to come un-plug, connect deeply, and take some intentionally selfish "me time." So what did each day entail, exactly? Quite a lot. Jessica Micheletti, Yoga Ambassador with Lululemon, started each morning with a challenging Vinyasa yoga practice held in a charming cottage, complete with crackling fire. A longtime yogi, Jessica provided personal tips on posture and pose. As an added touch, she handed out contemplative word-cards that surreptitiously mirrored the overall goals of the event. During the day, Zeke Lopez, talent strategist, did one-on-one talent assessments for each attendee. Having studied assessment questions filled out pre-program, he dove-in deep with each individual, highlighting strengths and, what he calls, quirks. "The talent talks were where we saw people get the most vulnerable," Zeke explained. "While understanding our strengths and weaknesses is enormously helpful, real change comes when we open ourselves up to deep connection. Emotional engagement helps our personal and professional lives in ways we're just beginning to understand – this is a new concept for the average American employee."
Deb piggybacked off Zeke's comments, adding, "Taking our guests to an emotional edge through talent assessments, hard yoga, and edgy table discussions had a surprising outcome. We knew relationship building would be an important part of our three nights together, but the authentic connections are where people found the most value. TPG took a lot away from this discovery. It's our new secret sauce for proving meaningful events for our clients, ones with high ROI. We're taking "logistics company" out of our vernacular – we are now connection connoisseurs."
Impressive meals in stunning environments designed by Dalton Fine bathed the senses in luxury while daily speakers took the retreat to new levels. The welcome reception included an intimate fireside chat with Kelly Corrigan. Armed with her book, Glitter and Glue, Kelly was endearing and funny as she shared her thoughts on work and life fulfillment. After the talk, she signed books and chatted with guests. Lunch the following day featured Fif Ghobadian and Alice Cahan from Road 22, a luxury basics clothing company that employs formerly incarcerated women. The trunk show was a huge success, and the highlight was hearing from Rachael Dunne, the company's first employee. Poised and intelligent, Rachael explained her journey from devastating circumstances to drugs and jail to her rising role at Road 22. That evening, guests tucked into a cave at B Cellars for a wine pairing dinner and presentation journey given by Kimberley Chambers. Kim is a record-setting open water swimmer who currently has a documentary under production, Kim Swims. The final speaker was Whitney Johnson, author of Disrupt Yourself. Whitney held the group captive, explaining the difference between mastery and challenge along a work-life s-curve and how, to stay engaged, we must play inside the more challenging upward climb. And, in a twist where the teacher becomes the student, Whitney also gained something from her time at Meadowood. "I came to talk about personal disruption," she said. "It turns out, participating in the retreat and experiencing yoga allowed me to do a little disrupting of myself."
Throughout the entire For the Love retreat, Deb, Zeke, and Jessica tied together overarching themes and encouraged challenging table conversations. As Deb explained, "we wanted people to get just the tiniest bit uncomfortable between the crafted cocktails and stunning table settings – that's where growth happens."
To find out more about TPG's For the Love of YOU Luxury Lifestyle reboot, please visit: http://www.tpgfortheloveofyou.com/