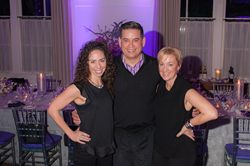 This will be an excellent chance to un-plug, connect deeply, and take some intentionally selfish "me time."
San Francisco, CA (PRWEB) October 13, 2016
Guests who attend For the Love of YOU are encouraged to socialize, learn, and unwind for three incredible days of yoga sessions, personalized talent assessments, outstanding meals, and inspired talks. TPG is creating a platform where like-minded individuals can gather and encourage each other to reassess their goals and reclaim their passions.
Speaking at the event will be a select group of Life Ninjas – TPG's term for radical barrier breakers. Debbie Parsons will kick things off at the welcome reception. Debbie is the creative spark behind the retreat and President of TPG, an award-winning Bay Area event company. The idea for the lifestyle reboot series came to her during a client's corporate incentive. When she saw her company creating ultra-personalized, once-in-a-lifetime events, she decided to bring it to a micro level with people who wanted to laugh and learn.
"I'm looking forward to hanging out with the smart, the irreverent, the funny," Debbie explained. "This will be an excellent chance to un-plug, connect deeply, and take some intentionally selfish "me time."
Zeke Lopez will be the event's talent strategist. For nearly 10 years, Zeke has worked with growth-minded company leaders, helping them fit the human side of their organization together with their business objectives. Over the course of three days, Zeke will show attendees their edge, that place where people get stuck and find fear. After personal assessments, participants will begin to see how ambitions, strengths, and weaknesses need to be understood and shaped to achieve long-term goals.
Jessica Micheletti, yoga ambassador for lululemon, will get attendees into a reflective state of mind. Jessica finds yogic meaning in almost anything, and she's passionate about guiding others to discover and realize their dreams. During the retreat, Jessica will conduct group Vinyasa yoga classes and teach the importance of breath-work in business and the miracle of daily micro meditations.
Additional well-known talent will be at the retreat. In a casual fire-side chat setting, each will share stories about what inspired them to get real with themselves … real enough to embrace discomfort and change. Ayelet Baron will talk about creating a healthy, humane world through the re-imagination of nature, business, work, and life. An activist for the human spirit, her book, Our Journey To Corporate Sanity, Transformational Stories from the Frontiers of 21st Century Leadership, is coming out soon. Laura Munson, New York Times bestselling author, speaker, and creator of the Haven Writing Retreat in Montana, will share her unwavering lifelong focus on writing and her ultimate understanding that "making it" did not provide the cure-all she'd expected. Laura will guide guests through writing exercises designed to capture truth and tap into the heart's intent for personal and professional lives. David Howitt, author of Heed Your Call and TEDx presenter, will share his hope for people to become undivided in their work-play goals. Through his authentic humor and shameless honesty, David will share his anticipation, sense of wonder, and fear of leaving every safety to start an unknown hero's journey ... and, he'll encourage attendees to consider the same. Finally, Ciaran Gribbin, songwriter and lead singer for INXS, will get everyone up and singing while demonstrating the healing, unifying power of music.
TPG is excited to roll out its second luxury lifestyle reboot in Napa this January. The curious, inspired, and motivated are all encouraged to attend and bring a friend. To find out more about this amazing event and to register, please visit http://www.tpgfortheloveofyou.com/