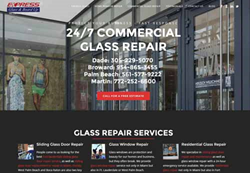 We have upgraded and emphasized replacement issues specific to Fort Lauderdale on the newly upgraded page.
Fort Lauderdale, FL (PRWEB) January 21, 2015
Express Glass and Board Up Services, a top Ft. Lauderdale glass replacement company, is proud to announce that they have upgraded their Fort Lauderdale informational page on glass replacement and repair. The company's city-by-city web upgrade means that each city now has a unique offering, where local residents can get informed on glass service issues and communicate with the company.
"Fort Lauderdale is a major community for our glass replacement services," commented Yani Santos, general manager of Express Glass. "Therefore, we have upgraded and emphasized replacement issues specific to Fort Lauderdale on the newly upgraded page."
To view the newly upgraded glass repair and replacement page for Fort Lauderdale, please visit http://www.expressglassfl.com/fort-lauderdale-glass-window-repair/.
Upgrades to the Fort Lauderdale Service Page
Among the new upgrades, launched in mid January, to the Fort Lauderdale page are the following.
Unique Phone Number. Fort Lauderdale residents can easily and instantly see the phone number at 954-865-3455 unique to Fort Lauderdale. Those on mobile phones should be able to click to call.
Stunning Visual Photography. Customer feedback has indicated that city residents want a page that conveys the beauty of this Atlantic-side Florida city; consequently the photography emphasizes beach and water views.
Service line explanations. Glass replacement has proven to be very popular in Fort Lauderdale vs. glass repair in other South Florida cities; therefore, the page has a direct link to the service line for glass replacement.
Finally, Internet reviews unique to Fort Lauderdale are prominently visible on the page as well.
About Express Glass Repair and Board Up
Express Glass and Board Up Service Inc. is a family owned and operated glass repair business with more than 20 years of experience. Their professional technicians and the large variety of inventory make Express Glass the top glass repair service. If customers are looking for Miami glass repair or Ft. Lauderdale glass repair as well as glass repair in Delray Beach or West Palm Beach glass repair, please reach out to the company for a free estimate. If customers need a 24/7 Sliding Glass Door repair service in Ft. Lauderdale or Boca Raton or Miramar, technicians are standing by. The company specializes in sliding glass door repair and window glass repair; technicians will handle any glass replacement situation efficiently. Home or business glass repair is the company's main priority.
Express Glass Repair and Board up
http://www.expressglassfl.com/