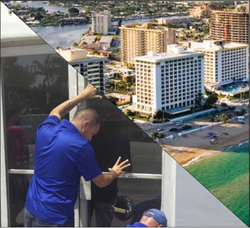 With 24/7 service, we strive to replace glass immediately and at a reasonable price. Our customers are spreading the word and we are proud of that.
Fort Lauderdale, FL (PRWEB) June 17, 2015
Express Glass & Board Up, Ft. Lauderdale's premier commercial and residential glass repair and replacement, is proud to announce six positive reviews for excellent customer service. The company closely monitors its online review status as today's busy consumers go first to the Internet to find a trustworthy glass repair business.
"Integrity is important to us. Five-star reviews tell us we are meeting our goal for outstanding customer service," commented Yani Santos, general manager of Express Glass. "With 24/7 service, we strive to replace glass immediately and at a reasonable price. Our customers are spreading the word and we are proud of that."
To read Express Glass and Board Up's 5-star customer reviews and 24-hour service in full detail, go to; https://plus.google.com/117547181416928531272/about?gl=US&hl=en-US
To learn more about their Fort Lauderdale services, including sliding door repair and replacement, please visit http://www.expressglassfl.com/fort-lauderdale-glass-window-repair/.
Sliding Doors: The Repair vs. Replace Dilemma
Shattered glass is a home emergency. Florida homeowners want the danger removed immediately. Lesser glass replacement companies may take advantage with replacement-only estimates at high prices. Express Glass does what is best for the customer, and glowing reviews on Internet review sites like Google+, Yelp, and Yellow Pages confirm this from customer experience. If a door can be repaired at an economical price, that is the estimate. If a door is beyond a simple repair, an Express Glass professional will explain why and offer a reasonable estimate for replacement.
Locals are ready to enjoy summer break on patios and decks with Ft. Lauderdale's ocean views. There isn't time to worry about shattered glass and unexpected high costs when entertaining visitors. When high winds push patio furniture into a glass door, emergency service is needed. Five-star reviews confirm that Express Glass and Board Up is the number one business to call 24/7.
About Express Glass Repair and Board Up
Express Glass and Board Up Service Inc. is a family owned and operated glass repair business with more than 20 years of experience. Their professional technicians and the large variety of inventory make Express Glass the top glass repair service. If customers are looking for West Palm Beach glass repair or Ft. Lauderdale glass repair as well as glass repair in Delray Beach or West Palm Beach glass repair, please reach out to the company for a free estimate. If customers need a 24/7 Sliding Glass Door repair service in Ft. Lauderdale or Boca Raton or Miramar, technicians are standing by. The company specializes in sliding glass door repair and window glass repair; technicians will handle any glass replacement situation efficiently. Home or business glass repair is the company's main priority.
Express Glass Repair and Board up
Web. http://www.expressglassfl.com/