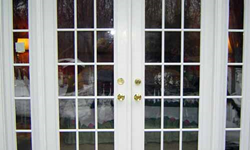 We are known throughout Fort Lauderdale as the go-to service for glass repair
Fort Lauderdale, FL (PRWEB) May 14, 2015
As one of the top sliding glass door repair services in greater Fort Lauderdale, Express Glass is announcing an new clarification service available only by phone to Fort Lauderdale glass repair customers. Many customers are confused about whether to repair, or replace, a sliding glass door. Unfortunately, in many cases they may be sold a complete replacement when they need only a repair. The new service helps them differentiate the service needed by a first-step phone consultation.
To avail themselves of the new service, customers should call the Fort Lauderdale phone number at (954) 865-3455, and mention that they need a no charge phone consultation to help determine whether they need a sliding door replacement or just a repair.
"We are known throughout Fort Lauderdale as the go-to service for glass repair," commented Yani Santos, general manager of Express Glass. "However, customers get very confused about the whole repair vs. replace problem, because not only is there repair vs. replace of the door as whole, there are also issues of tracks, handles, and other parts necessary to repair a sliding glass door. There are even non-glass sliding doors, and patio doors. The lay person is simply overwhelmed with choices and can be subject to unscrupulous vendor manipulation."
In addition to calling the company's hotline, Fort Lauderdale customers can also find information online. For more information on the company's sliding glass door repair services, please visit http://www.expressglassfl.com/home-window-repair/sliding-glass-door-repair/. For information on sliding glass door replacement services, please visit http://www.expressglassfl.com/blog/category/sliding-glass-door-replacement/.
The Surprisingly Confusing Nature of Sliding Glass Door Repairs
Until they need a glass repair or replacement, many Fort Lauderdale residents consider the issue of a sliding glass door to be (deceptively) simple. Indeed, most Fort Lauderdale homeowners take it for granted: the doors just work. Until they don't. At that point, the homeowner must decide whether to repair, or replace, the sliding door. In some cases, it is just the track that is broken, and in others just the door handle. In still others, the door is so far gone that it must be replaced rather than repaired. When searching for glass repair services in Fort Lauderdale, the customer can encounter unscrupulous services that confuse the customer further by conflating the repair of a track, for example, with the repair of a handle or a broken glass pane. Express Glass has issued an alert about its no obligation phone consultation so that customers know that they have a reliable, honest service to turn to to figure out, first, what repairs (or replacements) they need for their doors. Then they can identify potential vendors.
About Express Glass and Board Up
Express Glass and Board Up Service Inc. is a family owned and operated glass repair business with more than 20 years of experience. Their professional technicians and the large variety of inventory make Express Glass the top glass repair service. If customers are looking for Fort Lauderdale glass repair or Ft. Lauderdale glass repair as well as glass repair in Delray Beach or West Palm Beach glass repair, please reach out to the company for a free estimate. If customers need a 24/7 Sliding Glass Door repair service in Ft. Lauderdale or Boca Raton or Miramar, technicians are standing by. The company specializes in sliding glass door repair and window glass repair; technicians will handle any glass replacement situation efficiently. Home or business glass repair is the company's main priority.
Express Glass Repair and Board up
http://www.expressglassfl.com/