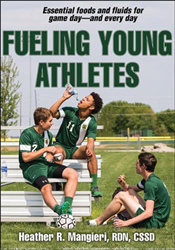 "Fueling young athletes is a topic that deserves more attention from parents and coaches. Too many kids endure needless fatigue. Don't let your child be one of them!" – Nancy Clark, MS, RD, CSSD, Author of Nancy Clark's Sports Nutrition Guidebook
CHAMPAIGN, IL (PRWEB) December 05, 2016
Research shows when children and adolescents are given only water to drink, they do not replace their fluid losses as completely as when they are offered flavored drinks or sport drinks. That's why Heather Mangieri, a national media spokesperson for the Academy of Nutrition and Dietetics, believes youth athletes who struggle to drink enough during practice and competition can benefit from sport drinks.
In her forthcoming book, Fueling Youth Athletes (Human Kinetics, January 2017), Mangieri points out that as athletes perspire, they lose electrolytes, especially sodium and chloride, the two minerals found in the greatest combinations in sweat. Along with water, these electrolytes need to be replaced to prevent fluid imbalance. So as a general rule, she says young athletes who participate in continuous activity for more than one hour may benefit from more than water.
The sodium in sport drinks not only replaces sodium losses but also heightens the desire to drink more, resulting in better overall hydration. Some athletes sweat heavily and may require more sodium to replace their losses. The signs of a heavy sweater include stinging eyes when sweat drips into them, salty-tasting sweat, feeling gritty after a long bout of exercise or a long run, and white streaks on the face, arms, and upper back after exercise.
"If used properly, sport drinks can be very beneficial for youth athletes," comments Mangieri, founder of Nutrition CheckUp, a nutrition consulting practice with expertise in sport nutrition, weight management, and disordered eating. "Their purpose is to provide fluid, carbohydrate, and electrolytes during and after sports. Drinking them for breakfast or while watching television only adds calories and sodium that may not be needed." The mother of three active children herself, she recommends drinking water for other times of the day.
If a young athlete prefers to drink water, Mangieri recommends finding out why. Sometimes it may have nothing to do with nutrition. One of Mangieri's clients, a 17-year-old female hockey goalie, would have benefitted from a sport drink since she was on the ice for the entire game. She chose water, however, because she didn't want to stain her white uniform with a red or bright orange sport drink. A homemade colorless sport drink that Mangieri suggested solved that problem. In another example, a 14-year-old high school wrestler sweated heavily during weekly practices that lasted more than two hours, but his coach didn't want to take the risk that sport drinks would spill on the mats and cause them to get sticky. Mangieri convinced the coach to have his athletes fill their water bottles with sport drink and then keep them in a designated area away from the mats.
"Sport drinks are not the only way to replace electrolytes," Mangieri concludes. "Eating the right foods before and after activity can also replace electrolytes." She says there are many ways to fuel and hydrate for game day, which include increasing sodium intake through foods.
Covering weight management, supplementation, fueling, hydration, and more, Fueling Young Athletes addresses the issues that families and athletes most often face, such as late-night practices, inconvenient school lunch times, demanding tournament schedules and travel leagues, and lack of sleep. For more information on Fueling Young Athletes or other fitness and nutrition books and resources, visit HumanKinetics.com.
YouTube link: Heather Mangieri discusses "Fueling Young Athletes"
###