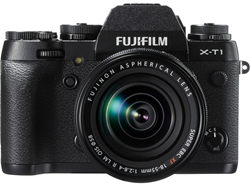 FUJIFILM Announces the X-T1 Premium Mirrorless Interchangeable Lens System Digital Camera.
New York, NY (PRWEB) January 27, 2014
The Fujifilm X-T1 mirrorless digital camera features a 16.3 megapixel APS-C X-Trans CMOS II sensor to produce high-resolution imagery with an expandable sensitivity range from ISO 100-51200, as well as a top continuous-shooting rate of 8 fps.
The sophisticated Fuji X-T1 digital camera incorporates Fujifilm's proprietary X-Trans sensor, using a unique randomized pixel array in order to avoid the use of a resolution-reducing optical low-pass filter, resulting in images with the utmost sharpness and clarity. This imaging system is benefited by the Intelligent Hybrid AF system, which uses both contrast- and phase-detection methods to acquire focus quickly and accurately. Enhanced manual focusing capabilities are also a result of these technologies; Digital Split Image and Focus Highlight Peaking are two methods for quickly and precisely determining focus using intelligent focusing aids for improved control and optimized efficiency.
A large 16.3MP APS-C CMOS image sensor is integrated into the Fujifilm X-T1 to provide high image quality and detail. Using Fujifilm's unique X-Trans bespoke pixel array, the sensor is designed with a randomized pixel pattern to eliminate the need of an optical low-pass filter for reducing moiré and aliasing. By removing this filter from the design, higher image sharpness is possible. Lens Modulation Optimizer (LMO) factors are also taken into account, which helps to automatically compensate for aberrations and diffraction blur in order to produce images with the utmost inherent sharpness. See all information on the Fujifilm X-T1 at http://www.bhphotovideo.com/c/product/1025328-REG/fujifilm_x_t1_mirrorless_digital_camera.html.
Featuring a body design reminiscent of SLR film cameras, the Fuji X-T1 exhibits a meshing of analog exposure controls with intelligent automated technologies. The clean and functional body design incorporates physical shutter speed, ISO, and +/- 3 EV exposure compensation dials that pair well with the manual aperture rings found on many of the XF lenses, for intuitive exposure setting selection. Depending on individual needs, customizable buttons and an easily-accessible Q Menu provide a one-touch solution to modifying some of the most frequently used camera settings, such as ISO, white balance, and file settings.
The Fujifilm X-T1 digital camera kit includes the Fujinon XF 18-55mm f/2.8-4 R LM OIS lens, which provides a 35mm-equivalent focal-length range of 27-84mm, covering wide-angle to portrait-length perspectives, to suit working with most everyday subject matter. An optical image-stabilization system counters the appearance of camera shake by up to four shutter-speed steps and a linear-driven autofocus motor helps to produce quick and smooth focusing performance. Three aspherical elements and one extra-low dispersion element work to minimize chromatic aberrations throughout the zoom range, while also benefitting overall image clarity and sharpness. A Super EBC coating has also been applied to individual elements, to reduce lens flare and ghosting for enhanced contrast and neutral colors.
Fujifilm X-T1 Digital Camera Product Highlights:
http://www.bhphotovideo.com/c/product/1025329-REG/fujifilm_x_t1_mirrorless_digital_camera.html

16.3MP APS-C X-Trans CMOS II Sensor
3.0" 1,040k-Dot Tilting LCD Monitor
0.5" 2.360k-Dot OLED Viewfinder
Full HD 1080p Video Recording at 60 fps
Built-In Wi-Fi Connectivity
Continuous Shooting up to 8 fps
Intelligent Hybrid AF System
Digital Split Image and Focus Peaking
EF-X8 Shoe-Mount Flash Included
B&H Photo is a qualified Fujifilm Authorized reseller with the most up to date Fuji product information, product pricing and individual promotional offers.
Connect with B&H Photo on the web! (Facebook, Twitter, Tumblr, Google+, Pinterest, Flickr, YouTube, B&H Insights & InDepth)
About B&H Photo Video
As the world's largest source of photography, video and audio equipment, B&H Photo-Video is known worldwide for their attentive, knowledgeable sales force, and excellent customer service, including fast, reliable shipping. Visitors to the website can access a variety of enlightening articles and educational videos. B&H has been satisfying customers worldwide for 40 years. http://www.bhphotovideo.com/.