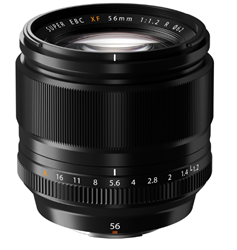 Fujifilm announced the bright Fujinon XF56mm F1.2 R delivers extraordinary sharpness and speed for premium X-Series digital cameras.
NYC, NY (PRWEB) January 06, 2014
The Fujifilm FUJINON XF 56mm F1.2 R lens is lightweight, and less than half the size of an equivalent full-frame camera lens, for easy and comfortable use. The XF 56mm F1.2 R also has a metal aperture ring with a premium quality feel, and offers incredible speed and silence in the studio, perfect for the professional portrait photographer. The aperture ring on the XF 56mm F1.2 R is designed to give users a satisfying 'click' between f-stops, with a perfectly-torqued focusing ring for precise adjustments.
The FUJINON XF 56mm F1.2 R lens has a new optical design that features 11 elements in 8 groups, and includes two ED (extra low-dispersion) elements and one double-sided aspherical element, plus four elements with a convex surface facing the subject, which combine to reduce spherical and chromatic aberrations for superior images.

FUJIFILM X-Mount is compatible with all FUJIFILM interchangeable system cameras
HT-EBC (High Transmittance Electron Beam Coating) multi-layer coating to minimize ghosting and flare
Additional newly-developed coating added to the reverse side of the front lens to further reduce the ghosting that typically occurs when using deep concave lenses
Enhanced resolving power at all apertures, when used with an X-series camera that incorporates a Lens Modulation Optimizer (LMO) function
Seven-blade aperture diaphragm, which helps create smooth and round bokeh effects
Minimum working distance of 70cm
Inner focusing system which moves small elements in the middle or at the rear of the lens, while keeping the large front elements stationary for high-speed AF
The bright Fujinon XF 56mm F1.2 R delivers extraordinary sharpness and speed for premium X-Series digital cameras. Read all about the Fujifilm XF 56mm F1.2 http://www.bhphotovideo.com/c/product/1021630-REG/fujifilm_xf_56mm_f_1_2_r.html
B&H Photo, a qualified Fujifilm Authorized reseller with the most up to date Fuji product information, product pricing and individual promotional offers.
At this same time Fujifilm also announced its new line of powerful, feature-packed FinePix digital cameras and will showcase them at the Consumer Electronics Show in Las Vegas from January 7-10. Each new FinePix camera is specially designed to give consumers an enjoyable user experience that fits their lifestyle. The new FinePix cameras include: the FinePix S1, a "weather resistant" super zoom camera; the FinePix XP70 rugged, go-anywhere waterproof point and shoot; the super-zoom FinePix S9400W bridge camera, with advanced image stabilization and WiFi functions; and the pocket-friendly long-zoom FinePix S8600 with a versatile 36x zoom 25-900mm lens.
Connect with B&H Photo on the web! (Facebook, Twitter, Tumblr, Google+, Pinterest, Flickr, YouTube, B&H Insights & InDepth)
About B&H Photo Video
As the world's largest source of photography, video and audio equipment, B&H Photo-Video is known worldwide for their attentive, knowledgeable sales force, and excellent customer service, including fast, reliable shipping. Visitors to the website can access a variety of enlightening articles and educational videos. B&H has been satisfying customers worldwide for 40 years. http://www.bhphotovideo.com/.