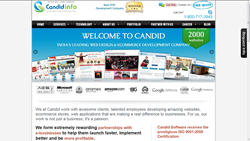 We want to make sure that our clients don't have to work with several companies to achieve their online business goals.
Noida, IN (PRWEB) May 11, 2014
Candidinfo a leading name in the website design, development and digital marketing industry, is offering the services of full time SEO consultant at the most reasonable prices. The company which is headquartered in Noida, India, caters to the website marketing and design needs of clients in all parts of the world. The company offers a comprehensive range of internet marketing and website development services, which include web design, microsite development, website redesign, ecommerce solutions, content management solutions, search engine optimization, social media marketing, SEO outsourcing and staffing solutions to clients from different parts of the globe.
A senior executive of the company stated that, "We want to make sure that our clients don't have to work with several companies to achieve their online business goals. This is the reason that we offer a comprehensive range of website related services, such as design and marketing, which help our clients make their mark in the highly competitive internet business world. Realizing that many of our clients want personalized SEO services, we have recently started offering the services of dedicated SEO consultants, each of whom works for a particular client and ensures that he/she meets the targets of the client."
Search engine optimizations plays a vital role in today's e-commerce world as there are millions of businesses competing for the best search engine rankings with similar services. Candidinfo has gone one step further with its top quality SEO services by making it possible for its clients to outsource all their search engine optimization goals to a dedicated individual who works with Candidinfo but for the client who require their services. Dedicated to offer the best quality services at the best prices, the services of a full time SEO are being offered for just $999.
"All the SEO consultants that make up our team are highly experienced and trained to handle all types of SEO requirements. They are fully capable of making use of different White Hat SEO techniques to ensure that the goals of our clients are met in the minimum time with maximum effect. He/she provides extensive services including consultation, website analysis, keyword research, HTML clean up, image optimization, internal linking, content modification and blog submissions. Our team is trained not to use any Black Hat SEO techniques and hence the results we help achieve on search engines are highly stable and effective", further added the executive.
Candidinfo is a multi-talented company that is dedicated to empower online businesses by helping them derive maximum returns from the internet. The company has won several awards for its entire range of effective services that it offers at reasonable prices. To end your quest to find SEO outsourcing company in India, visit http://www.candidinfo.com/seo-outsourcing-india. If you wish to avail the best website redesign services in India, you can visit the official website of Candidinfo.
About Candidinfo:
Headquartered in Noida, India, Candidinfo is a provider of a wide range of online services, including website design and development, search engine optimization and internet marketing. The company has been in operation since 1999 and has made a great reputation for itself by offering the best services at best prices. To know more about the PHP development services offered by Candid Info, head over to http://www.candidinfo.com/php-india. For more info about Wordpress development company in India, you can contact the folks at Candidinfo.
Contact Details:
A-82, Sector - 4,
Noida
Pin Code: 201301
Phone: +91-9953139234
Website: http://www.candidinfo.com/