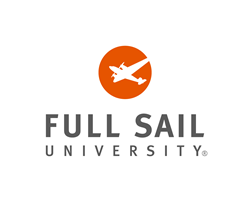 WINTER PARK, Fla. (PRWEB) March 31, 2022
Full Sail University is an award-winning higher education institution for those pursuing careers in entertainment media and emerging technologies. Today, the university is proud to announce that the Computer Science Bachelor of Science degree program has launched its Artificial Intelligence (AI) concentration. Online degree-seeking students are eligible to take advantage of the new focus area.
Under the continued guidance and leadership of Program Director, Rebecca Leis, Ph.D., the accelerated online degree program concentration will follow the fast-paced, hands-on project-based education Full Sail University is known for.
"We're honored to be educating the next generation of changemakers on the intricacies of Computer Science as it relates to Artificial Intelligence," stated Leis. "As fields under the emerging technologies umbrella continue to see growth, Full Sail remains on pace with industry standards, and continues to provide educational opportunities modeled after the professional world."
Within the Artificial Intelligence concentration, students will be able to design, develop, and implement software-based AI solutions for business, entertainment, and consumer markets. The deliberately curated curriculum provides students with a comprehensive understanding of AI concepts and techniques, as well as advanced topics such as machine learning, natural language processing, computer visions and Human-AI interaction.
Below are a few examples of courses within the concentration:

Deep Learning: The course provides students with a deep understanding of how to create different types of Neural Networks such as Artificial Neural Networks (ANN), Recurrent Neural Networks (RNN) and Convolutional Neural Network (CNN).
Computer Vision: The course educates students on techniques and algorithms used to analyze and interpret images in a variety of computer vision tasks such as image detection, image recognition, image analysis, image enhancement, and image production.
Natural Language Processing: The course explores techniques and methods for designing and implementing natural language processing (NLP) applications. Students will explore and practice implementation of techniques such as tokenizing, stemming, and lemmatization in designing and creating an NLP application.
Security in Artificial Intelligence: The course examines the principles of information and software development security, AI-based tools used to identify and respond to threats and exploits against AI algorithms. Students will learn how to secure AI algorithms against malicious use, methods used to exploit AI weaknesses, and how machine learning can be used by adversaries.
To learn more about the Computer Science Bachelor of Science Artificial Intelligence Concentration, please visit the Full Sail website Full Sail website.
About Full Sail University
Full Sail University is an award-winning educational leader for those pursuing careers in entertainment media and emerging technologies. Founded in 1979, Full Sail has received accolades throughout its over 40-year history, including most recently being featured on the 2021 "Top 50 Film Schools and Instructors From Around the World" list by Variety Magazine, and previously recognized as the "School/College of the Year" by the Florida Association of Postsecondary Schools and Colleges. Full Sail University is a graduate and undergraduate degree-granting institution offering on-campus and online degree programs in areas related to Art & Design, Business, Film & Television, Games, Media & Communications, Music & Recording, Sports, and Technology. With over 83,565+ graduates worldwide, Full Sail alumni have worked on countless award-winning projects with individual recognition including OSCAR®, Emmy®, GRAMMY®, ADDY®, MTV Video Music Award, and Video Game Award honors.
https://www.fullsail.edu/
https://twitter.com/fullsail
https://www.facebook.com/FullSailUniversity