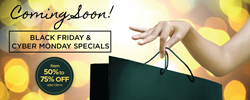 Napa, CA (PRWEB) November 17, 2015
The Fuller Brush Company's Black Friday Sale is back! The iconic brand, created in 1906, is offering their biggest sale ever just in time for the holidays. This year, instead of spending hours fighting crowds, waiting in long lines, and searching for parking spaces, save big on quality, practical gifts and stocking stuffers for family and friends from the comfort of your own home.
With savings of up to 75% off, Fuller is making it easy for shoppers looking to save and check some items off of their shopping list early this season.
Fuller's limited time deals include:

Spin Mop Pro: This remarkably efficient mop has a pump handle that controls spin and rinse action. Rinse and dry in the same bucket and save time and space.
Ultimate Dish Brush Set: This incredible set of dishwashing must-haves comes with a tough on grease dish wash, ergonomically designed long stemmed jar brush, and a mini jar brush perfect for hard-to-reach cleaning.
Stone Cleaner: Clean, polish, and protect polished stone surfaces all in one step with only a small amount of Fuller's stone cleaner. Use to preserve and enhance the look of any polished stone around the home.
Metal Polish: This polish does more than just shine and protect brass and copper surfaces, it will also prevent tarnish from reforming and restore its original sheen.
Degreaser Concentrate: This best selling degreaser works to remove the toughest grease stains. Dilute for lighter cleaning projects for a degreaser that will last! Use for dishwashing, barbecue cleaning, boost laundry detergent, or even grease build ups in the drain, or to clean tools or garage spills.
Leather Cleaner and Conditioner: Restore the look and feel of any leather item with this softening cleaner made from the finest natural oils. Lessen the visibility of scratches and abrasions in car upholstery, sports equipment, jackets, and more.
FullConnect 4 pc All Purpose Cleaning Kit: Our convenient and easy-to-use Universal Cleaning System makes dusting and mopping anywhere a piece of cake! Kit includes Mega Duster, Bendable Duster, Dynamic Duo Mop, & 52' Extension Pole.
FullConnect 5 pc All Purpose Cleaning Kit: Another kit we offer to make household chores a breeze. Kit includes Cobweb Duster, Bendable Microfiber Duster, Corner Brush, Light Bulb Changer, & Deluxe High Reach Extension Pole.
Microfiber Cloths: With a unique weave of 100% microfiber, these reusable cloths can be used wet or dry to dust, polish, and restore mood, leather, floors, cabinets, and more.
Deluxe Hand Held Mirror: Fuller's Deluxe Hand-Held Mirror is perfectly sized for on the go use! Distortion free glass gives the most flawless and precise reflection possible.
The Fuller Brush Company was founded by Alfred C. Fuller in 1906 in Somerville, MA. The brand continued to grow, further immortalized in pop culture in the late 40s and early 50s in cartoons and movies such as "The Fuller Brush Man" starring Red Skelton and "The Fuller Brush Girl" starring Lucille Ball. The family owned and operated business has a legacy of innovative modern and heritage products and manufacturing techniques- as well as a vast alumni of passionate hard working salesmen such as Billy Graham, Dennis Quaid, and Jack Nicholson.
Since its inception, The Fuller Brush Company continuously strives to provide unique, long lasting, quality products to its consumers. Fuller confidently backs it's cleaning and personal care products that so many trust and rely on with a strong satisfaction guarantee. Shop and save today at http://www.fuller.com!