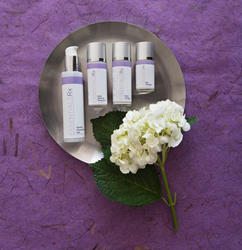 I started using EssentialsRx since it first came out. I don't use anything else and I've noticed that the age spot blemishes I had on my face are fading away. I had a most noticeable one on my nose, and it has disappeared!
Napa, CA (PRWEB) September 29, 2015
Fuller Brush Company is changing the game of skincare with its brand new release of EssentialsRx®, an all-natural, paraben and fragrance-free line of skin care that is unlike any other line of skin care ever experienced!
Unnatural ingredients used in every day facial care regimens can really get under your skin. That's why Fuller's new line of skincare goes beyond conventional treatments containing harsh chemicals and dyes to create a naturally restorative skin care regimen that effectively reduces the degeneration of skin! Formulated by dermatologists, Fuller Brush Company's revolutionary potent, high-efficacy skincare line EssentialsRx® was created to improve the condition of all skin types.
David Sabin, the CEO of Fuller Brush Company, explains what makes EssentialsRx® such a powerful product. "It is the first time we went above and beyond and worked with dermatologists to try to find the perfect hypoallergenic product that has had proven performance to enhance the beauty and look of your skin."
The collection addresses uneven skin tone, loss of firmness, wrinkles, rough skin texture and dullness - without the use of harmful ingredients, animal by-products and animal testing.
The scientifically developed formula of EssentialsRx® was created to provide a routine to achieve vibrant, youthful skin while giving skin a fresh feeling inside and out. The EssentialsRx® skincare line includes a Gentle Cleansing Gel, Daily Renewal Moisturizer, Eye Therapy, and Neck Therapy.
The EssentialsRx® Gentle Cleansing Gel is a two-in-one cleanser and makeup remover. A purifying formula of Glycolic Acid and 13 botanical extracts gently erases every trace of makeup without irritating, drying or stripping the skin.
The groundbreaking blend of Hyaluronic Acid, Squalan, and Jojoba Seed Oil in the EssentialsRx® Daily Renewal Moisturizer stimulates collagen growth while evening out skin tone. The result is rapid hydration and nourishment so skin can achieve a natural brightness (without the greasy feel afterwards).
A small amount of the EssentialsRx® Eye Therapy can transform the puffy dark circles around eyes with morning and evening use. The innovating combination of Hyaluronic Acid, Rice Brand Protein, and Arnica dramatically hydrates and rejuvenates the delicate skin around eyes for a rested and rejuvenated appearance.
The unique EssentialsRx® Neck Therapy formulation uses peptide ingredients to assist in lifting and redefining the fragile neck area, while also improving skin's elasticity.
Consumers are already raving about Fuller's new skincare line. Jill from Tennessee stated, "I'm not much of a believer in creams really, but like many, I use them anyway in the hope that I'll look 10 years younger tomorrow. I think these creams really do improve the eye and neck areas. The formula is quite thin and absorbed really easily and works for me - I would recommend giving it a go! When I started using the product a few weeks ago, my eyes were sore and puffy. Since using this my eyes feel better, are no longer puffy, and the dark circles have diminished. I am thrilled with this product! My skin has never been happier. I can say after just one use my skin was singing and saying thank you."
Fuller Brush Company is dedicated to the tradition of the best quality products. Since 1906, Fuller has prided itself in finding solutions to modern day cleaning needs and has now evolved to include a resolution for skin care. The all new EssentialsRx® skincare line is an exciting addition to the one of a kind, long-lasting collection of personal care products provided by this iconic sales force. Check out Fuller Brush Company's brand new skincare line and other personal care and cleaning products today!
About Fuller Brush Company
Founded in Somerville, MA in 1906, Fuller Brush Company is a trusted source for premium tools and cleaning solutions. Fuller strives to consistently deliver top quality, long-lasting products that work and confidently backs over 100 years of customer satisfaction.