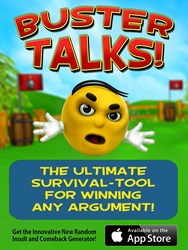 Innovative new Random Insult Generator features the funniest, most sarcastic ball in gaming history.
Ottumwa, IA (PRWEB) September 11, 2013
Available today, the new 'Buster Talks' app allows anyone with an iPhone, iPad or iPod Touch to create shocking insults with just one finger (no, not that one!). Thanks to the innovative new Random Insult Generator that's built into 'Buster Talks,' users can both discover and share unique and original insults and comebacks that nobody has ever thought of before. Don't get stuck relying on the same old "Yo Momma" jokes.
Opening the 'Buster Talks' app immediately puts the player face to face with "The Funniest Ball in Gaming," Buster. Buster isn't just an ordinary ball. He happens to be the most sarcastic and downright funny yellow talking ball in existence. Just like in the original BusterBall®, he delivers his classic witty and sarcastic insults with ease. The app is quite easy to use as well. Users simply have to swipe across the screen to create completely random and brand-new insults that Buster provides with sarcastic glee. Every time that you flick across the screen, parts of each insult or comeback are replaced with new words which are taken from a pool of thousands. These combinations are guaranteed to make you laugh as you're caught off-guard by their quirky randomness.
'Buster Talks' is an app designed with social media in mind. All users can instantly share their catchy new insults through Facebook and Twitter with custom-created, colorful e-cards. If you have an iPhone, iPad, or iPod Touch, there's no excuse not to download it. Available worldwide for free.
'Buster Talks' is developed by the creators of the 'BusterBall' app, Full Sea Productions, LLC, which is ran by the Mooney family from their farm in Ottumwa, Iowa. Ottumwa also happens to be the Video Game Capital of the World (yes, you can Google that) and is an area known for its humor. In 2011, the Mooney family founded Full Sea Productions to develop "shockingly funny" video games that make people laugh all in the name of good fun.