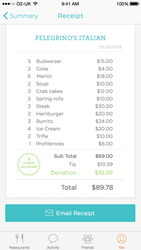 Baltimore, MD (PRWEB) October 26, 2015
The iOS app beta version will be released on 10/29 in restaurants in Baltimore at their soft launch party (To sign up to be a beta tester go to http://www.fullsociety.org).
Full Society, a 2015 Accelerate Baltimore winner, has enjoyed almost a full year of development to bring restaurants and bars the ideal payment solution: One that takes steps away from restaurant staff while giving convenience and control back to the guests.
The Full Society payment platform is more than just an app for restaurant goers. It is accompanied by software that directly integrates with restaurant POS systems so that waiters aren't left out of the loop or forced to enter duplicate data. And that's not all. The app encourages patrons to give back to society at the time of payment by tracking meals donated. All donations go to feed those in need locally. Full Society is directly partnered with the Helping Up Mission, Paul's Place, SNAP, and Moveable Feast to provide those meals.
Full Society chose Artifact Coffee, a Woodberry Kitchen Restaurant, as the location for their private event. The venue will be closed to the public on the evening of 10/29. Drinks and Hors D'oeuvres will be served to a VIP guest list exclusively comprised of investors, press, and restaurateurs.
"It will be a night to celebrate our progress and get the word out to investors and restaurants who want to help us grow," says Paige Cantlin, the founder of Full Society.
At the soft launch event Paige will be sharing with guests a sneak peak of the product and what's to come in the future. The soft launch party is sponsored by Brown Advisory, City Dining Cards, and the ETC.
Full Society has already given back over 1,000 meals to those in need through the kitchens of local non-profits, primarily the Helping Up Mission. Bob Gehman, executive director of the Helping Up Mission will also be present at the event in support of Full Society.
Restaurants participating in the Full Society beta will receive unique benefits, as well as discounted 2% payment processing. As a result, these restaurants will be limited to an exclusive launch group.
The beta version of the Full Society app will be available for download on 10/29, but act quickly if you want to try it out. Only a few spots are reserved in the launch group for restaurants. The number of beta users is also capped, and sign-ups are already approaching that limit.
Contact Information:
Samone Maddox, Director of Marketing & Press
info(at)fullsociety(dot)org