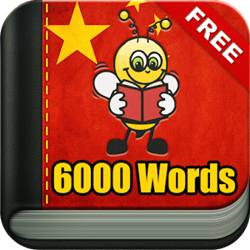 Learn Chinese 6000 Words No-Advertisement Edition Is Now Available through Google PlayStore
(PRWEB) December 29, 2014
Third-party advertisements often prove to be a major hindrance for learning languages using mobile apps. Learn Chinese 6000 Words, a much popular language learning application developed by Fun Easy Learn, was available up until now as a free app that could be downloaded from Google PlayStore. However, many users were not quite happy with the advertisements that popped up every now and then and the developers were well aware of this fact. Very recently, Fun Easy Learn developers added an option for users to purchase the app directly from Google PlayStore. They have added that users can now do away with the advertisements that used to obstruct their learning process. It has been learnt that users can also collect 1,000 flowers to unlock all levels of the language learning application.
The Chinese language is perhaps the most feared language among beginners. This is because Chinese phonetics is way different from that of Latin and Indo-European languages. Users need to get a good command over the thousands of alphabets and symbols in order to speak and understand the language properly. Learn Chinese 6000 Words is a scientifically built language learning app that reduces the Chinese language learning process to bare bones. Users can now only concentrate on learning the Chinese language, instead of getting distracted by the advertisements that appear on their mobile screens frequently.
"It is true that Chinese language happens to be the most challenging language when it comes to learning it from the beginner level. But learning Chinese can become a less daunting pursuit if learners are equipped with technology-based solutions. Our language learning app, Learn Chinese 6000 Words, provides users an opportunity to grasp the meanings of the Chinese word by seeing illustrations. They can relate Chinese words and alphabets with objects that are familiar to them and can learn the language pretty fast. On the other hand, we have now added an option of removing the advertisements by paying for the full edition of the software application. We believe Chinese learning has now become much easier than ever before," said the owner and chief developer of Fun Easy Learn during a recent press meet.
About the Company
Fun Easy Learn is a global leader in developing language learning apps for beginners.
To know more about the company, visit http://www.funeasylearn.com/.