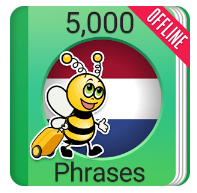 Fun Easy Learn to Update Learn Dutch 5000 Phrases App Progressively Every Month
(PRWEB) October 04, 2016
Fun Easy Learn, a mobile app development firm which has developed many language learning apps to date, recently announced that one of their flagship software applications, Learn Dutch 5000 Phrases, will be updated progressively every month. The developers added that they will add thousand new phrases every month to make the app more useful for their users. With the periodic updates, Learn Dutch 5000 Phrases will become a more useful app for their users, the owners believe.
"We have thoughtfully added the initial 500 phrases to the app's database. We know that the users will be looking for more at a certain period when they get familiar with the first 500 phrases. At this point, we will add thousand more phrases. Again after one month, we will add another thousand phrases to the database. This way, the users can learn the meanings of the phrases in a step-by-step manner," said a developer associated with Fun Easy Learn.
Fun Easy Learn has designed its Learn Dutch 5000 Phrases app in a scientific way. The developers said that the interface is interactive and intuitive at its best. They said that they have explained the meanings of the Dutch words very well through images and phonetic transcriptions and literal translations. They added that the objective is to make Dutch language learning a fun-filled experience for their users.
"We have built-in games, images and other elements inside this app which will make learning a cakewalk. About the phrases, we will keep adding phrases to the app's database at regular intervals. We think that this app is going to become a massive hit in the coming years as many users have already written positive things about the app in Google Play Store. We believe we are heading the right direction and we will soon add more phrases to double the fun and excitement of our users," said the chief developer of Fun Easy Learn, who also informed that they want to gather use feedback, based on which they may include certain words and phrases.
About the Company
Learn Dutch 5000 Phrases is a language tool developed by Fun Easy Learn. To know more, visit http://www.funeasylearn.com/app/learn-Dutch/