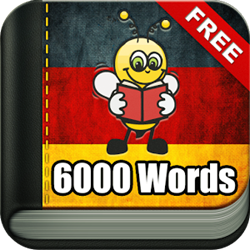 "Learn German 6000 Words" is Now Available in a Zero-Advertisement Version
(PRWEB) December 31, 2014
Fun Easy Learn has been offering a number of user-friendly language learning apps for a few years. Learn German 6000 Words is an effective tool that facilitates German language learning. However, users of the app have repeatedly complained to Fun Easy Learn that they are facing difficulties in learning: the third-party ads might disrupt their learning. Based on customer feedback, the developers decided to introduce a new pay-to-use feature. Under the new scheme, users can now unlock all levels and also remove all ads by paying a small fee.
The German language, according to some of the German language scholars and linguists, is one of the hardest languages to learn. Using German subordinate clauses is more difficult than any other language. Not only Asian and African learners, even European learners face a lot of difficulties while attempting to learn German.
Learn German 6000 Words is developed to to help beginners to learn German with fun. The new 'Unlock-All-Levels' feature will make it easier for students to learn the language, the developers have claimed.
"We know the German language can't be learned in a few days or months. Users can start from elevating their word power and then move on to grammar and syntax. Till now, this is the most scientific method used to teach the notoriously difficult language to starters. Besides, users now have this option to do away with all the third-party ads that impede learning. Users can take delight in the fact that advertisements can now completely be removed", said the chief developer of the firm.
About the Company
Fun Easy Learn designs and develops user-friendly language learning applications that are free to download from Google PlayStore.
For gathering more info about the company, please visit http://www.funeasylearn.com/