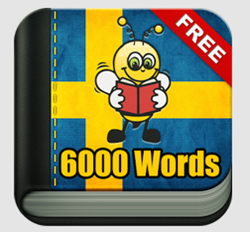 Learn Swedish 6000 Words Ads-free Edition Is Now Available in Google PlayStore for a Small Price
(PRWEB) January 05, 2015
Fun Easy Learn is a renowned m-learning tool developer. It is widely known for a variety of software applications that facilitate language learning. Among these cutting-edge software applications, Learn Swedish 6000 Words is a highly effective app that has been proven to be a powerful aid in learning the Swedish language. The developers have declared that the language learning app can now be optimally used with a small subscription fee. Users can now visit the Google Play Store and pay a small fee one time only to purchase the full edition. The developers have also mentioned users can also collect 1000 flowers to unlock all levels successfully.
Though renowned linguists opine that Swedish language has many similarities toEnglish language, many native English speakers find it quite difficult to learn the language properly, let alone speakers of other languages, who often give up. Learn Swedish 6000 Words explains the meanings and connotations of even the most difficult Swedish words through images. It will help users to learn language in an easy and fun way. Words and grammars will be mastered when playing the games.
"There are linguists who agree that Swedish language is quite similar to English language and that native English speakers should not find it too difficult to learn it. However, in reality, there are many native English speakers who struggle to know the meanings of different Swedish words. As vocabulary build-up is central to the process of learning any new language, we have carefully selected about 6000 words and explained the meaning through minimalist illustration", said the owner of Fun Easy Learn. He also added that the new unlock-all-levels option will make Swedish language learning a smoother experience for the learners.
About the Company
Fun Easy Learn is good at developing language learning apps that are optimized for mobile devices.
To know more about the company, please visit http://www.funeasylearn.com/