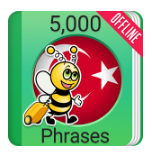 Learn Turkish 5000 Phrases, a language learning tool that comes in form of a mobile app, will be richer with new Turkish phrases, with 1000 new phrases to be added every month.
(PRWEB) October 04, 2016
Fun Easy Learn, a language learning app developer that has developed a string of language learning tools for Smartphone users to date, recently launched Learn Turkish 5000 Phrases, an android app which contains a vast database of commonplace Turkish phrases that are used in schools, colleges, offices, hospitals, embassies, consulates in and outside Turkey. The developers informed that at present, the app has only 500 Turkish phrases but added that they will be adding 1000 new phrases every month to the app's database.
While commenting on their plan to add thousand phrases every month to the Learn Turkish 5000 Phrases database, one very senior developer from Fun Easy Learn told the press that they are now in the process of collecting user feedbacks on the phrases already added. Also, their research and development team is working closely with Turkish linguists, native bilingual speakers and Turkish language tutors to carefully select from a vast repository of Turkish phrases.
"The whole idea of developing this app was to help commoners who come in contact with Turkish natives at work or at school. There are many people who work or study in Turkey and it's important for them to learn the language of the land to better communicate with the natives," said a developer with Fun Easy Learn during a press conference.
Learn Turkish 5000 Phrases, the Turkish language learning app, now translates Turkish phrases in sixty different languages which include English, Arabian, Chinese, Thai, German, Spanish, Norwegian etc. The app has a simple and elegant interface which also serves as an interactive platform for language learners from all around.
"Our Learn Turkish 5000 Phrases app is totally free to use, with no strings attached. Android users can now download the app from PlayStore and start learning the initially added 500 phrases. As they progress, the app will also get updated by our team of language tutors and software engineers who will be adding 1000 new Turkish phrases every single month. We are committed to make Turkish learning a joy ride for our users," told the owner of Fun Easy Learn.
About the Company
Learn Turkish 5000 Phrases is a Fun Easy Learn developed Turkish language learning app. To know more, visit http://www.funeasylearn.com/app/learn-turkish/