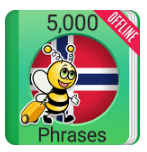 Learn Norwegian 5000 Phrases, a language learning app which aims to become an easy digest for first time Norwegian language learners, will have a bigger database of Norwegian words in next few months.
(PRWEB) October 03, 2016
Learn Norwegian 5000 Phrases, a language learning tool particularly useful for first time Norwegian language learners, aims to become an even bigger resource than it is now in next couple of months. Fun Easy Learn, the software development firm which developed the app, recently confirmed that they will add 1000 more phrases every month to fulfill the promise implied through the name of the app itself. At present, the number of Norwegian phrases in the app's database is 500, with thousand new phrases to be added to the database of Learn Norwegian 5000 Phrases every month.
The step-by-step addition of Norwegian phrases to the app's database will make Norwegian language learning more exciting for their learners, the owners maintained. They said that they are now testing user response and their R&D is also working at the background to make the app more resourceful in the future. They are of an opinion that the app will make Norwegian app learning as exciting as possible.
At present, Learn Norwegian 5000 Phrases translates the most common Norwegian phrases in sixty languages so that learners from different countries can get the meaning of different Norwegian words before going there for studying or working.
"It actually creates a lot of problems for the native Norwegians and the visitors to Norway to communicate with each other due to language barriers. We want to close the gap and facilitate education, trade, and communication between native Norwegians and foreigners to the land", said a chief developer from Fun Easy Learn, the company which has also successfully designed and developed a number of other language learning apps of similar type.
"Language learning is pretty much a cognitive exercise. The better the meaning of a phrase is explained, the easier it becomes for the learners to grasp the meanings. We have, therefore, explained the meanings of each and every Norwegian phrase through images so that non-native speakers of the language can easily get the meanings", added the developer.
About the Company
Learn Norwegian 5000 Phrases is a Norwegian language app developed by Fun Easy Learn.
To know more, visit http://www.funeasylearn.com/app/learn-norwegian/