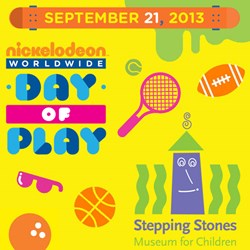 As a children's museum, we recognize and value the important role of play in a child's development.
Norwalk, CT (PRWEB) August 21, 2013
Get up, turn off those electronic devices and come on down to Stepping Stones Museum for Children for a free day of play on Saturday, September 21. In honor of Nickelodeon's 10th Annual Worldwide Day of Play, Stepping Stones is hosting an action-packed day with no museum admission cost and activities throughout Mathews Park. The event will feature outdoor field games, interactive sports and fitness demonstrations, awesome educational activities and amazing live performances – all for free and guaranteed to keep the family moving.
Join Stepping Stones to celebrate what they do best – play. There will be fun craft activities and a special gymnastics performance. Children can take a yoga, Zumba or martial arts class, learn golf skills, meet some of their favorite sports mascots from local professional teams, dance the afternoon away at a rocking dance party featuring local bands, play a life-sized game of chess or participate in their favorite lawn games on the Great Lawn at Mathews Park. New this year will be a park-wide book walk where visitors can exercise their bodies and their brains as well as a "Run for FUN" where participants can get into the starting blocks and race around the Stepping Stones racetrack. In addition, there will be plenty of experts on hand from the community and other sponsor organizations to provide ideas on ways families can take charge of their health.
Now in its 10th year, Nickelodeon's Worldwide Day of Play is an entire day dedicated to active play. The day is part of a larger movement to reduce childhood obesity and reinforce lessons about the tremendous benefits of healthy lifestyles among children. Stepping Stones is proud to serve as a local host of this event for the sixth time.
"We are thrilled to be hosting the Worldwide Day of Play here at Stepping Stones for the sixth time," said Rhonda Kiest, Executive Director of Stepping Stones Museum for Children. "As a children's museum, we recognize and value the important role of play in a child's development. We are dedicated to helping the families that we serve maintain their commitment to healthy living. With our focus on our Healthy Children, Healthy Communities® initiative, our status as a Let's Move! Museums and Gardens institution, our increased emphasis on healthier options in our cafe, our tremendous array of special programming and our beautiful park location, Stepping Stones is truly the perfect stage for a spectacular day of health-based family fun."
Make the most of this day-long worldwide movement all about the power of play. For more information, call 203 899 0606 or visit the Stepping Stones website.
Important local support of the Worldwide Day of Play at Stepping Stones Museum for Children is being provided by Lead Sponsor Pepperidge Farm and by Contributor Sponsor People's United Bank. This special day of free play is a component of the museum's Open Arms Accessibility Initiative.
About Stepping Stones
Stepping Stones Museum for Children in Norwalk, Connecticut, is an award-winning, private, non-profit 501(c)(3) children's museum committed to broadening and enriching the lives of children and families. Located on five acres in Mathews Park, the recently expanded LEED Gold certified museum encompasses five hands-on galleries, multimedia theater, Family and Teacher Resource Center, café and retail store. Stepping Stones also offers onsite educational events and workshops, school and group programs and traveling resources for schools, libraries and youth-serving organizations. Stepping Stones is located at 303 West Avenue, exit 14N or 15S off I-95 in Norwalk. Museum hours are Monday – Sunday, 10:00 am – 5:00 pm. For more information, please visit their website at: http://www.steppingstonesmuseum.org