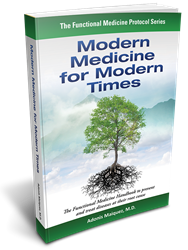 Determining your health now and in the future is not about a simple 5 minute check-up
Miami, FL (PRWEB) September 22, 2015
The MIAMI Institute for Age Management & Intervention announces the release of the new book "Modern Medicine for Modern Times: The Functional Medicine Handbook to Prevent and Treat Diseases at their Root Cause" by Dr. Adonis Maiquez. Dr. Adonis explains in this insightful handbook why functional medicine is so important to American's health in Modern Times.
A neurosurgeon, MD and health practitioner for 25 years, Dr. Adonis explores in the book the multitude of reasons why modern medicine is turning health care on its head and creating more problems than it is solving.
Dr. Adonis attributes some of the largest health problems affecting Americans today, such as obesity, heart disease, diabetes, Alzheimer's dementia and Auto-Immune diseases with the environment, toxicities, intestinal health, hormone and vitamin deficiencies, among others.
Prescription medications have overtaken the health care industry. Medications are prescribed more now than at any time in recorded history with many unknown side effects that are occurring behind the scenes. 70% of Americans are on prescription medications and the US Centers for Disease Control (CDC) admit antibiotic resistance is one of its top priorities.
Functional medicine, Dr. Adonis explains in his new book, takes health care back to its roots, but uses modern techniques to ensure its effectiveness. Preventative health care is essentially what functional medicine is. Instead of waiting to see a doctor when sick, diseased or cancer-ridden, why are are people not encouraged to take health care more seriously. Learn about functional medicine wellness procedures at http://www.miami-institute.com/procedures/wellness/.
Dr. Adonis has based his books on thousands of clinical hours with actual patients. It is a medical process that starts the moment he sees a patient for the first time.
"Determining a patient's health now and in the future is not about a simple 5 minute check-up" says Maiquez. He explains a patient's total health; mind, body and spirit all add to an overall health situation. Through modern testing, a patient's current health baseline is established and through effective medical counseling the patient is guided to effective strategies to affect a positive health outcome.
These strategies include medically tested programs that all equate to a better health and wellness plan for life. From better eating habits to exercise regimes to therapies that address the body and mind, functional medicine is meant to address major lifestyle health concerns before they turn into diseases as well as offering alternative health solutions for diagnosed chronic diseases.
Now patients can get a guide for their own functional medicine health care, written by one of the foremost experts on it. From how to assess a patient's own health to keeping track of their progress, "Modern Medicine for Modern Times" is a great how-to guide to get and stay healthy by Dr. Adonis of The MIAMI Institute for Age Management & Intervention.
For more information, press only:
Blanca Lopez
305-677-8535
blanca(at)miami-institute(dot)com