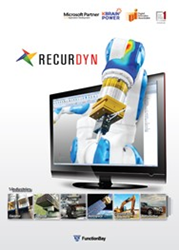 SEOUL, South Korea (PRWEB) December 07, 2020
"The new version of RecurDyn includes solver enhancements such as MFBD (Multi Flexible Body Dynamics) now supporting thermal analysis (which allows thermal stress and strain of flexible bodies to be calculated) and a faster eigen solver (more than 3 times faster than before) that many users have been expecting", said Sangtae Kim, marketing team manager for FunctionBay.
V9R4 also greatly improves the usability of RecurDyn through various improvements to the Pre and Post processor. The improved features of the pre and post processor include better visibility of a center marker and a detailed display of the contact force as well as enhanced CAD modeler that reduces the time for multibody dynamics modeling and reviewing results.
In addition, many new features were added to RecurDyn's built-in mesher to support better mech generation and flexible web modeling of a gear.
For additional information on RecurDyn V9R4, please visit https://support.functionbay.com and watch the webinar "RecurDyn V9R4 What's New".
About FunctionBay
FunctionBay, Inc. is a professional developer of Computer Aided Engineering (CAE) simulation software for the simulation of both flexible and rigid body dynamics. The company creates engineering solutions and provides sales, marketing, and consulting for CAE software. FunctionBay, Inc. is the world's leader in the development of simulation technology. Its customers cover a wide range of engineering disciplines, including automotive, shipbuilding, railway, office equipment, robots, heavy industry, and military vehicles and equipment.
https://support.functionbay.com
About RecurDyn
RecurDyn is a Computer Aided Engineering (CAE) software focused on Multi-Body Dynamics (MBD), with extended multiphysics capabilities. RecurDyn combines the power of an optimized recursive solver with superior contact technology, providing best-in-class simulation performances. The effectiveness of RecurDyn really comes out when approaching large-scale multibody models, including multiple contacts and flexible bodies.
https://support.functionbay.com/en/page/single/2/recurdyn-overview
Multibody Dynamics
Multi-Body Dynamics (MBD) is the prediction of the motion of groups of interconnected bodies that have forces acting on them. The result of a multibody dynamics simulation is the motion of the bodies and the various interaction forces acting on and between the bodies. Multibody dynamics, as opposed to Multi Flexible Body Dynamics (MFBD), is the simulation of groups of bodies idealized as being perfectly rigid.
https://support.functionbay.com/en/page/single/58/recurdyn-technology-multibody-dynamics