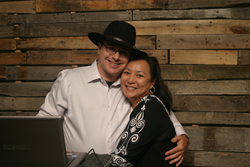 Chicago, IL (PRWEB) November 18, 2014
For those who pledged their life through military service to defend both God and country, there is an added benefit available this season. Glenn David Productions is offering complimentary, professional kids' DJ entertainment and professional face painting publicly for those who served their country proudly.
According to Schroeder, high energy disc jockey and owner of Glenn David Productions, "To say that United States veterans are treated poorly is like saying molten lava is hot. It's a gross understatement." Schroeder continues, "Many children of US veterans will not receive a gift this Christmas or a turkey dinner on Thanksgiving, let alone a home to sleep in and a mattress to sleep on. As much as 45% of United States' veterans - that are single moms - actually live out of their car. This reality is repulsive. And, if we can bring some Christmas joy to these children and make a single mom's life a little easier, even if just for a little while, we are going to extend our hand and make it happen."
Glenn David Productions is providing the professional talent, however, they need civic minded, religious and philanthropic groups to donate the locations to host these events. The goal is to help as many Chicagoland families of United States veterans as possible. And, larger fellowship halls, banquet facilities and gymnasiums are great spaces to accommodate larger groups of people. And, these locations need to be donated by people and groups who genuinely want to help United States veterans and their families.
"People of faith need to lead now more than ever. And, the only way to truly lead is by example," says Schroeder. "We provide the marketing material that the civic organizations use to reach out to their members. Our company also provides the professional talent for free. Otherwise, this kind of talent could easily cost thousands of dollars per show. The end result, however, is that needy children and the families of those who served their country proudly can receive some Thanksgiving blessings and Christmas cheer. Everybody wins." Everyone just has to do their part.
To offer your location to host a United States Veteran's Thanksgiving or Christmas benefit, reach out to Glenn David Productions at 1-800-887-3517. You can email your requests to donate(at)glenndavidproductions(dot)com. For press inquiries or speaking engagements, please email press(at)glenndavidproductions(dot)com.