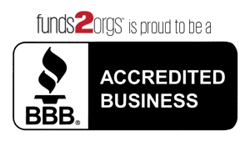 We are extremely pleased to be accredited by the BBB.
Orlando, FL (PRWEB) August 12, 2014
Last week, Funds2Orgs announced its recent accreditation by the Better Business Bureau (BBB) serving Central Florida. The BBB Accreditation further exemplifies the exceptional customer services and best practice model already facilitated by Funds2Orgs.
According to BBB reports conducted by Princeton Research, seven in ten consumers say they are more likely to buy from a company designated as a BBB Accredited Business than other businesses in the community. BBB consistently serves a resource for the public; providing objective, unbiased insight about businesses in local communities and across the country.
"We are extremely pleased to be accredited by the BBB," said Wayne Elsey, CEO and Founder of Funds2Orgs. "Being accredited gives our customers confidence in our commitment to maintaining high standards of ethics and customer service. We value our client relations and look forward to strengthening our bond with past and future clients."
To be a BBB Accredited Business, companies and charities must adhere to the BBB's "Standard of Trust," a comprehensive set of policies, procedures, and best practices representing trustworthiness in the marketplace. The standards call for the following from each accredited business: building trust, embodying integrity, advertising honestly, being transparent, honoring promises, being responsive, and safeguarding privacy.
For more information about Funds2Orgs, please visit http://www.funds2orgs.com.
About Funds2Orgs
Funds2Orgs offers real, relevant and engaging fundraisers for the nonprofit sector. Recently featured in Forbes, Funds2Orgs is the latest enterprise from Wayne Elsey, founder of Soles4Souls and author of "Almost Isn't Good Enough." Funds2Orgs is housed in Orlando, Florida along with the other two portfolio companies.
About BBB
BBB's mission is to be the leader in advancing marketplace trust. BBB accomplishes this mission by creating a community of trustworthy businesses, setting standards for marketplace trust, encouraging and supporting best practices, celebrating marketplace role models and denouncing marketplace behavior.
Businesses that earn BBB Accreditation contractually agree and adhere to the organization's high standards of ethical business behavior. BBB is the preeminent resources to turn for objective unbiased information on businesses and charities.
Contact BBB serving Central Florida at 407-786-9008.