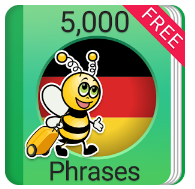 Recently Unveiled Learn German 5,000 Phrases App Scheduled to Become Better and More Comprehensive
(PRWEB) June 07, 2016
Shortly after the grand launch of their flagship German language learning mobile application, Learn German 5,000 Phrases, Fun Easy Learn, the development firm announced that they are yet to make the app better and more feature-rich. The developers said that they are currently in the process of adding more language options and more German words to the database of the already popular German language learning tool for Smartphone users.
Fun Easy Learn recently issued a press statement carrying the impending changes in the app's database. The developers are planning to add thirty five more language options to take the current count of 30 language options to 65. They said that the idea behind adding more language options to the app's database is to enable more people around the world to learn German language without a hitch.
The developers of the Learn German 5,000 Phrases app also informed the press that they will keep adding 1000 words each month to the app's database so that the total count of German words can be totaled around 5000. The present count of German words in the app's database is only 500.
"We hope our existing users won't mind free updating the app with a single click or swipe of their Smartphone screen. They can also turn on the auto update feature on their Smartphone to see the improved Learn German 5,000 Phrases app in a matter of a month", said the project team head of the German language app development team of Fun Easy Learn. The executive also added that their research team is busy working in close coordination with the top German language experts to select and short list the most commonplace German words.
"German language, as anybody would admit, is not an easy language to learn. However, with our feature-rich app with a huge and growing database, anybody and everybody can take liking to German language learning. Our aim is to break the process of German language learning to bare bones", said the CEO of Fun Easy Learn on the eve of the launch of the Learn German 5,000 Phrases app.
About the Company
Learn German 5,000 Phrases is a feature-heavy German language m-learning app.
To know more, visit http://www.funeasylearn.com/app/learn-german/ or visit Play Store at https://play.google.com/store/apps/details?id=com.funeasylearn.phrasebook.german