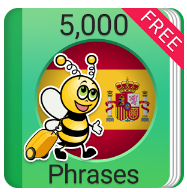 Recently Unveiled Learn Spanish 5,000 Phrases to Go Through Rapid Development and Upgrade
(PRWEB) June 07, 2016
Learn Spanish 5,000 Phrases, a language learning app that has made Spanish language learning a cakewalk for many already, is soon to go through a sea of change. The app, which was launched recently for the Spanish language learners, especially the m-learning enthusiasts, spread the world over, will be updated by the development team at Fun Easy Learn very soon.
On behalf of the development firm that has carved a niche for itself in the m-learning app development industry for quite some time now, it was recently announced that the recently launched Learn Spanish 5,000 Phrases app is only the most basic version of the same. The developers added that they are now working in cohesion to bring in a lot of changes in the app's database. Among other changes that have been officially confirmed by the developers, the two major changes would be addition of 35 new language options and also monthly addition of 1000 new phrases.
"At present, we only have 30 different language options. However, it seems that the Learn Spanish 5,000 Phrases app is growing in popularity in different parts of the world and about 35 more languages are soon to be added to the database. In addition to that, we would also like to mention that the app database of Spanish phrases is likely to grow every month. We only have 500 Spanish phrases at this moment, and a monthly addition of 1000 phrases would only make it a more user-friendly app", one of the developers confirmed.
Since upgrading and updating the Learn Spanish 5,000 Phrases is completely free on Play Store, the developers at Fun Easy Learn believe that the users will welcome the changes and will opt for a free upgrade whenever new changes are added to the app's database.
"We are overwhelmed to get the positive response from our existing users and we would like to thanks each one of them separately. It is our commitment to make Spanish language learning as easy as possible as we have been in this business of m-learning app development for a few years now", said the CEO of Fun Easy Learn.
About the Company
Learn Spanish 5,000 Phrases is an interactive Spanish language learning app.
To know more, visit http://www.funeasylearn.com/app/learn-spanish/ or visit Play Store at https://play.google.com/store/apps/details?id=com.funeasylearn.phrasebook.spanish